Zombie (Ability)
Talk

7
13,959 pages on
this wiki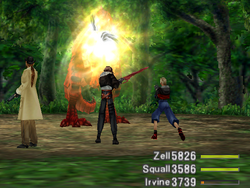 "Transform the target into one of the walking dead."
—Description, Final Fantasy Tactics.
Zombie, also known as Corruption, is a recurring spell in the Final Fantasy series. It inflicts the Zombie status effect.
Appearances
Edit
Zombie is a spell that causes the Zombie status effect, meaning the target will be injured when curative abilities are used on it.
Zombie is often drawn from undead enemies. The spell performs best when junctioned on the Vit stat. It adds the Zombie status effect to the weapon when junctioned on ST Atk-J and defends against the status when junctioned on ST Def-J.
Casting Zombie in battle increases compatibility with Doomtrain by 1, but lowers compatibility with Carbuncle by 0.2.

Zombie
Draw from
Level 1-100: Blood Soul, Forbidden, Gerogero
Draw Points
Deling City - Sewers, Trabia Garden - Cemetery (hidden, never refills)
Refine
L Mag-RF: 1 Zombie Powder refines into 20 Zombies; 1 Holy Water refines into 2 Zombies
HP-J
Str-J
Vit-J
Mag-J
Spr-J
Spd-J
Eva-J
Hit-J
Luk-J
+8
+0.15
+0.24
+0.15
+0.12
+0.02
+0.01
+0.02
+0.02
Elem-Atk-J
Elem-Def-J
ST-Atk-J
ST-Def-J
No effect
No effect
Zombie (+1.00%)
Zombie (+1.00%)
"Great tree of life, inject rotten extract! Zombie!"
—Upon casting in Playstation version.
Zombie is the command ability of both Templar and Mystic. Mystic's version of the spell was renamed Corruption in the PlayStation Portable release. Both skills inflict Undead on one unit up to four tiles away from the spellcaster. Templar's Zombie requires 150 JP to learn and cost 14 MP to cast. As a Spellblade skill, it has no charging time to cast but requires the user has sword or knightsword equipped. While Mystic's version cost 300 JP, 20 MP and has a charging Speed of 20.