Zodiark
Talk

12
16,312 pages on
this wiki
Strongest of the scions created by the gods, they feared his growth, and so kept him a child. So indomitable is his strength that all things are by him twisted and pressed into oblivion. He alone fashions the laws governing all things, and administers punishment in place of the gods. So is he Keeper of Precepts, and his authority is absolute.
—Clan Primer Bio
Zodiark, Keeper of Precepts (戒律王ゾディアーク, Kairitsu Ō Zodiāku?, lit. Zodiark, King of Precepts), also called Zodiac, is an Esper from the world of Ivalice. The Esper of Dark, he represents the Zodiac sign of Ophiuchus, the Serpent Holder. Zodiark is indeed a serpent, in the form that Ophiuchus is most commonly associated with, a snake. From his power of Dark, his color sign is black. Zodiark is also referred to as the Ashlesha Ascendant, which is the Sanskrit name of its Zodiac sign as used in Jyotish (Hindu) astrology.
Zodiark was formerly known as Serpentarius. In Final Fantasy XII the rare gem, which can be stolen from Zodiark refers to this.
Zodiark made its first appearance as Zodiac in Final Fantasy Tactics, renamed Zodiark for Final Fantasy Tactics: The War of the Lions.
Appearances
Edit
For the battle information, see: Zodiark (Final Fantasy XII Boss)
Zodiark is located in the Henne Mines, in the Special Charter Dig area. Because the mines are rich in magicite might be because this Esper is sealed there and his seal may have been broken by the miners while digging. To unlock the Special Dig site the player must have collected at least ten Espers. After doing so, they can go to Jahara and speak to Geomancer Yugelu. He'll unlock the gate to the Phase 2 Dig, which leads to the Special Charter Dig area.
One of the items the player can steal from Zodiark is the Serpentarius gem. This is one of the few times in the game this rare gem can be found. Serpentarius is needed in making the Tournesol.
Zodiark can be unlocked in the Sky Pirate's Den in the Clan Primer. By defeating him, the player gets the award of Zodiac Knight.
Final Eclipse
Banish Ray: A Dark-elemental attack, and Zodiark's basic offensive spell. Banish Ray usually deals 9,999 damage, which is only mitigated by enemies immune to Dark-elemental attacks.
Final Eclipse: A non-elemental attack, and Zodiark's ultimate attack. In an eclipse, Zodiark falls into a calm sea. An egg rises from the sea, and Zodiark hatches out of the egg to reveal his adult form, a serpent with vast, feathered wings. Folding his wings around his body, he draws energy from his surroundings and spreads his wings wide, filling them with power and obliterating his surroundings. As he flies off into space, with the energy of the eclipse charged in his body, the music drops. Zodiark flies on to the targeted enemy, and in a catastrophic explosion he destroys the fabric of reality itself.
Final Eclipse will always deal 50,000 base damage (Yiazmat has a damage reducing passive ability after reaching a certain battle phase; against him Final Eclipse deals 35,000 damage), making it one of the most powerful attacks in Final Fantasy XII. Unlike Shemhazai's Soul Purge, Final Eclipse does not need to be charged up using items, therefore making it a better choice to use in many players' opinions. Unlike most other Esper attacks, Final Eclipse is unaffected by Reverse.

License Information
Edit
Required License Points - 200 LP
Required Mist Charges - 3
Gambit Information
Edit
| Priority | Condition | Action |
| --- | --- | --- |
| 1 | Summoner: Status = Petrify | Final Eclipse |
| 2 | Foe: More than One Present | Scathe |
| 3 | Foe: Absorbs Dark | Flare |
| 4 | Foe: Dark = Weak | Banish Ray |
| 5 | Foe: Any | Banish Ray |
Attack: 147
Defense: 61
Magick Defense: 40
| Level | Max HP | Max MP | Speed | Strength | Magic | Vitality |
| --- | --- | --- | --- | --- | --- | --- |
| 1 | 3090-3091 | 23-25 | 26 | 60 | 45 | 26 |
| 10 | 3225-3248 | 50-70 | 28 | 66 | 51 | 28 |
| 20 | 3470-3536 | 90-140 | 30 | 72 | 57 | 30 |
| 30 | 3785-3908 | 131-212 | 33 | 78 | 63 | 33 |
| 40 | 4083-4260 | 181-302 | 35 | 84 | 69 | 35 |
| 50 | 4559-4825 | 224-378 | 37 | 90 | 75 | 37 |
| 60 | 4979-5323 | 264-448 | 40 | 94 | 81 | 40 |
| 70 | 5217-5603 | 294-498 | 42 | 99 | 87 | 42 |
| 80 | 5492-5927 | 324-548 | 44 | 99 | 93 | 44 |
| 90 | 5867-6371 | 344-578 | 47 | 99 | 99 | 47 |
| 99 | 6290-6873 | 353-587 | 49 | 99 | 99 | 49 |
Technicks
Edit
Piercing Magic
Ignore weather and terrain effects
Zero Charge
Zodiark can no longer cast Flare, but can cast Renew and Hastega. Final Eclipse's damage has been boosted to 60,000. He also gains the Null Vitality augment.
Main article: Zodiark (Revenant Wings)
Keeper of the precepts, before whom the mighty are rendered weak.
—In-Game Description
Zodiark returns in its adult form, along with the other Espers, in Final Fantasy XII: Revenant Wings. He is a non-elemental ranged Rank III summon. He is found during the Keeper Of Precepts mission, within the Well of Whispered Oaths. His twelve wings may be a reference to the 12 Espers corresponding to the horoscope signs.
Zodiark uses:
Graviga: Deal damage based on target's current HP to all foes in range.
Final Eclipse: Deal massive damage to all foes in range.
Though only mentioned, Zodiark is worshiped by the Ascians who are striving to resurrect what they consider to be the true god of the world. A glyph resembling an outline of Zodiark in Final Fantasy XII even appears over an early Ascian in a cutscene.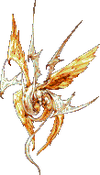 Zodiark, called Zodiac in the PlayStation version, is the most powerful summon spell in Final Fantasy Tactics. It costs 99 MP and has a speed of 10. Zodiark is summoned by Elidibus at the bottom of the Midlight's Deep. To learn it, player units must currently be a Summoner and get hit by Zodiark's attack and survive it. The player is asked if he or she would like to learn Zodiark. It is recommended that at least one ally Summoner learns Zodiark from Elidibus. It has a 90% chance of being learned.
When the player challenges the bottom floor of Midlight's Deep again, there is a 25% chance to encounter an enemy Summoner (of random gender) who possesses no Espers and can learn Zodiark from a player unit if he or she survives being hit by the player's Zodiark. The player can then wait for the enemy Summoner to cast Zodiark back on the player's side. The player cannot attempt to Entice that Summoner to join his or her party, because this unit is glitched and does not have the Summoner job in his/her learning ability menu.
In the PlayStation version, upon summoning this Esper the caster may chant, "Attack by the master of commandments! Zodiac!"
Zodiark appears as a Scion. He can be called by anyone equipping the Ring of Precepts when the Smash Gauge is orange. When summoned, Zodiark attempts to inflict 999 damage to all units at a 50% chance.
Zodiark appears in the Final Fantasy Trading Card Game.

Etymology
Edit
The creature is known as both Zodiark and Zodiac. Zodiark could be an amalgam of words zodiac and ark.
[view  · edit  · purge]In both astrology and historical astronomy, the zodiac is a circle of twelve 30° divisions of celestial longitude that are centered upon the ecliptic: the apparent path of the Sun across the celestial sphere over the course of the year.
The term zodiac derives from Latin zōdiacus, which comes from the Greek ζῳδιακὸς κύκλος (zōdiakos kyklos), meaning "circle of animals", as half of the signs of the classical Greek zodiac are represented as animals (besides two mythological hybrids).
[view  · edit  · purge]In the Bible, Noah carried seven pairs of each clean animal species and one pair of each unclean animal species, each pair a male and female, into a giant ship called the Ark. The Ark was built by God's command in order to survive the deluge He sent to purge the world from the sins committed by mankind.
In Final Fantasy XII, defeating Zodiark adds his sprite to the game's Sky Pirate's Den and awards the player with the title of "Zodiac Knight".
Zodiark's adult form - that of a snake with feathered wings - may be loosely based on the Aztec god Quetzalcoatl, who is represented as a feathered snake. Also, in some legends, Quetzalcoatl is related to the Sun and is tasked with the creation of mankind. This is in direct opposition to Zodiark, who is related to an Eclipse and with destruction.
Zodiark also parallels a dragon in Philippine Mythology, Bakunawa. It appears as a giant sea serpent with a mouth the size of a lake, a red tongue, whiskers, gills, small wires at its sides, and two sets of wings, one is large and ash-gray while the other is small and is found further down its body.
Zodiark also resembles archaic depictions of Seraphim in that it is a serpent with many wings, although Seraphim conventionally only have six. Six-winged beings are prevalent throughout the series, including Kefka Palazzo, Garuda, and Siren.