Zodiac Stone
Talk

6
13,959 pages on
this wiki
Ultimecia

: Time shall compress. All existence denied.
It has been suggested that this article or section be merged into Auracite.
Further discussion should take place at this article's talk page.


—{{{time}}}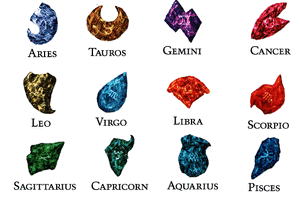 The Zodiac Stones are artefacts in Final Fantasy Tactics. There are a total of thirteen Zodiac Stones. Twelve are associated with signs of the Zodiac, while the thirteenth is associated with Serpentarius.
The Zodiac Stones are twelve Auracite crystals are branded with the twelve signs of the Zodiac. They are a prominent element in the story of the Zodiac Braves, a legend highly regarded by the Church of Glabados as the central doctrine of the religion's teachings. The twelve Zodiac Braves, in legend, fought against the Lucavi, driving them back into the spirit world. The legend goes on to say that the Braves, carrying the Zodiac Stones in hand, would come to save humanity should they ever be in peril.
In reality, these Zodiac Stones are connected to the Lucavi demons, providing conduits for them to exist in Ivalice. It is never clear whether or not the stones were made by the Lucavi or simply used by them, but at least one incident seems to show them as not having their own alignment; such as in the case of Marach Galthena, who was revived by a Zodiac Stone due to his sister Rapha's wish. At least seven Zodiac Stones are associated with Lucavi. The Scorpio Stone is tied to Cúchulainn, the Aries Stone is tied to Belias, the Gemini Stone is tied to Zalera, the Capricorn Stone is tied to Adrammelech, the Leo Stone is tied to Hashmal, the Virgo Stone is tied to Ultima herself, and the Serpentarius stone is connected to Elidibus's Lucavi form.
Ramza collects these stones as the game progresses and he kills the Lucavi associated with them. Although Ramza effectively collects all thirteen (assuming the player completes all sidequests), the Leo and Virgo stones cannot be viewed because they are gotten after passing the Point of No Return.