Ad blocker interference detected!
Wikia is a free-to-use site that makes money from advertising. We have a modified experience for viewers using ad blockers

Wikia is not accessible if you've made further modifications. Remove the custom ad blocker rule(s) and the page will load as expected.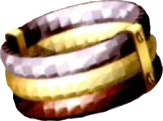 Ziedrich (ザイドリッツ, Zaidorittsu?, lit. Seydlitz), also known as Seydlitz, Juggernaut Badge, and Atlas, is a recurring armor in the series. It is generally a very powerful piece of equipment, providing high stat bonuses as well as protection against nearly all elements in the game it appears in.
Appearances
Edit
VII Ziedrich is a high-ranked armor that provides 100 Defense, 15 Def%, 98 Magic Defense, 18 MDef%, +20 Strength and Magic, and halves all elements bar the Hidden element. It can only be stolen from Turks:Rude at Rocket Town, Sunken Gelinka, and during the Midgar raid in the subway.
FFVIICC Ziedrich is a high-ranked accessory that provides +100 Attack, Vitality, Magic, and Spirit as well as halving all elemental damage taken. It is in a chest behind the boss in mission 9-5-6.
X Atlas is an armor for Rikku, obtained if the dominant ability on any targe is Break HP Limit.
Dissidia Seydlitz is a level 99 bangle that provides +307 HP and +72 Defense. It can be obtained from the shop by trading 31,920 gil, Protective Armlet, and Sky Jewel x5.
Dissidia012 Seydlitz returns is a level 100 bangle that provides +327 HP, 72 Defense, and Regen +20%. It can be obtained from the shop by trading 182,800 gil, Protective Armlet, Mystile, and a Huge Materia.
Etymology
Edit
Seydlitz is a surname of Prussian, Silesian, Thuringian, Saxon and Polish nobility. The SMS Seydlitz was a German battlecruiser built in 1910. It was named after Friedrich Wilhelm von Seydlitz, a Prussian general during the reign of King Frederick the Great and the Seven Years' War.
It has also been known as "Atlas". [view · edit · purge]In Greek mythology Atlas is one of the Titans, a race of primordial giants who fought against the gods of Olympus. When the Titans lost, Zeus punished Atlas by forcing him to spend eternity at the western horizon holding up the sky on his shoulders.