Zidane Tribal
17,828 pages on
this wiki
Talk

94
Virtue - You don't need a reason to help people.
—Zidane's quote
Zidane Tribal [ziˈdɑːnDFF and D012 pronunciation.] is the main protagonist of Final Fantasy IX. He is a thief who works for the Tantalus Theater Troupe set to kidnap the princess of Alexandria, an event that escalates to a quest to protect the planet of Gaia.
Zidane possesses little of the sullenness associated with previous Final Fantasy protagonists, Cloud Strife and Squall Leonhart; he enjoys making new friends and is always on the lookout to help those in need.
Appearance
Edit
Zidane has layered blond hair tied back into a short ponytail. He has blue eyes and a prehensile monkey-like tail—a trademark of Genomes. He wears a white sleeveless shirt under a short teal vest topped with brown leather accents at the shoulders and back; in the front, there is a lacy white jabot topped with a light green ribbon tied in a bow. He wears blue jodhpur pants, a tan belt, light green gloves with large blue cuffs, and a pair of light green and white cuffed ankle boots with a low heel. He sports a brown sheath on his left hip for his dagger. In Trance, Zidane's hair turns pink and becomes longer, and his clothing is replaced with pink fur.
Zidane's weaponry is atypical to the traditional thief class in the Final Fantasy series in that he dual-wields daggers or short swords, and a short double-bladed naginata, commonly referred to as a "swallow blade" or "thief sword". This type of weapon bears some resemblance to two short swords merged at the handle, though with the handle being an arm's length. He can combine his two blades into a "swallow blade" as well.
In Dissidia Final Fantasy where Zidane is portrayed in realistic proportions, he is short even when compared to those close to his age, but maintains his lean yet muscular build.
Personality
Edit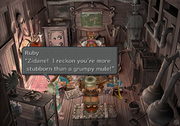 The sly eagle doesn't kill at whim.
—Zidane
Zidane is a bit of a skirt-chaser. Despite accusations that all he ever thinks about is girls, Zidane can be serious when the situation calls for it. He advises the party at multiple times on several aspects of life and is overall laid-back and casual in his actions and speech patterns. Though he is confident in his abilities, Zidane harbors insecurities about his past and concealed loneliness. While usually cheerful, Zidane sometimes gets depressed, lonely, and questions why he should exist. Though he values friendship he tries to keep his problems to himself and fight them alone. Zidane develops feelings for Garnet and acts like an older brother to Vivi. Towards other party members, even Steiner and Amarant who dislike him, Zidane is generally friendly.
At level 1, Zidane has 105 HP, 36 MP, 18 Magic Stones, 23 Speed, 21 Strength, 18 Magic and 23 Vitality.
Equipment
Edit
Zidane wields daggers and thief swords in battle. Zidane wields his weapons in the 'icepick grip' style, as opposed to the traditional 'hammer grip'. Whenever Zidane equips a dagger he holds it in his right hand during battle, as the left hand wields his unique weapon, the Orichalcum. The Elite Mark Gilgamesh recognizes this as Zidane's trademark weapon, having a fake version of his own in Final Fantasy XII, which is far longer than Zidane's. Zidane's other trademark weapon is the Mage Masher, which he wields in Dissidia Final Fantasy and Theatrhythm Final Fantasy.
He can equip light armor which consist of vests and hats.
Zidane starts out equipping Dagger, Leather Hat, Wrist and Leather Shirt.
Abilities
Edit
Support Abilities
Edit
Zidane, being a melee character, learns most of the Killer abilities as well as MP Attack and Counter. The flee and thief abilities are unique to him, as well as the Protect Girls ability.
| Name | Learned From | AP |
| --- | --- | --- |
| Auto-Reflect | Reflect Ring | 95 |
| Auto-Float | Feather Boots | 20 |
| Auto-Haste | Running Shoes | 55 |
| Auto-Regen | Golden Hairpin, Brave Suit | 25 |
| Auto-Life | Rebirth Ring | 130 |
| HP+20% | Mantra Band, Adaman Hat, Black Belt, Battle Boots | 40 |
| Accuracy+ | Power Wrist, Black Hood, Lapis Lazuli | 30 |
| Distract | Judo Uniform, Reflect Ring, Diamond | 30 |
| Long Reach | Thief's Hat, Protect Ring | 170 |
| MP Attack | Red Hat, Battle Boots, Power Belt | 45 |
| Bird Killer | Adaman Vest, Yellow Scarf | 20 |
| Bug Killer | Mythril Armlet | 35 |
| Stone Killer | Adaman Vest, Power Vest | 30 |
| Undead Killer | N-Kai Armlet, Headgear, Ritual Hat | 45 |
| Devil Killer | Chain Plate, Demon's Vest | 25 |
| Beast Killer | Leather Wrist, Egoist's Armlet, Flash Hat, Black Belt, Moonstone | 30 |
| Man Eater | Bandana, Coronet, Coral Ring | 25 |
| Master Thief | Thief Gloves | 50 |
| Steal Gil | Glass Armlet, Yellow Scarf | 40 |
| Add Status | Bone Wrist, Chimera Armlet, Bracer, Feather Hat, Twist Headband, Glass Buckle | 35 |
| Gamble Defense | Twist Headband, Adaman Hat, Power Vest | 20 |
| High Tide | Jade Armlet, Dark Hat, Gaia Gear, Sapphire | 35 |
| Counter | Ritual Hat, Power Vest, Power Belt | 70 |
| Protect Girls | Butterfly Sword, Leather Shirt | 35 |
| Eye 4 Eye | Flash Hat, Ninja Gear | 60 |
| Body Temp | Jade Armlet, Madain's Ring, Fairy Earrings, Diamond | 25 |
| Alert | Ninja Gear, Germinas Boots | 40 |
| Level Up | Egoist's Armlet, Rosetta Ring, Fairy Earrings | 75 |
| Ability Up | Green Beret, Brigandine, Ribbon, Lapis Lazuli | 95 |
| Flee-Gil | Wrist, Desert Boots, Gold Choker | 45 |
| Insomniac | Bandana, Gaia Gear, Coral Ring | 30 |
| Antibody | Glass Armlet, Mantra Band, Survival Vest, Glass Buckle | 20 |
| Restore HP | Brave Suit, Promist Ring | 85 |
| Bright Eyes | Feather Hat, Ritual Hat | 35 |
| Jelly | Dragon Wrist, Dark Hat, Circlet, Bronze Vest, Dark Gear | 35 |
| Auto-Potion | Mythril Vest, Demon's Vest, Running Shoes, Gold Choker | 30 |
| Locomotion | Black Hood, Golden Skullcap, Survival Vest, Demon's Vest, Ninja Gear | 30 |
| Clear Headed | Green Beret, Circlet, Dark Gear, Magician Shoes | 25 |
| Mug | Chimera Armlet, Thief's Hat, Survival Vest | 65 |
| Bandit | Mythril Dagger, N-Kai Armlet | 40 |
Main article: Steal#Final Fantasy IX
The Steal ability allows players to steal items from an enemy. Some items can only be obtained by stealing, and sometimes, players only get one shot at stealing it. Steal can be augmented with the abilities Flee Gil, Steal Gil, Master Thief, Mug, and Bandit. Zidane's Thievery skill is directly linked to the number of successful steals performed times half of his speed; with enough steals, the player can power it up to deal 9,999 damage.
Main article: Skill (Final Fantasy IX)
The Skill command is Zidane's unique battle skillset. When learning a Skill he also learns the adjoining Dyne attack (see further down) used in Trance. If Zidane equips multiple items that teach the same ability, the rate the ability is learned is multiplied by the amount of items (e.g. equipping a Dagger and Germinas Boots simultaneously teaches Zidane the ability Flee at twice the speed).
Main article: Dyne (Command)
When in Trance, Zidane's Skill command changes to Dyne. Dyne raises his physical attack power and offers attacks that can damage single or multiple enemies. Zidane's Dyne and Skill abilities are connected, as he needs to learn a Skill to unlock the corresponding Dyne.

Musical Themes
Edit
"Zidane's Theme" plays only once in Final Fantasy IX: when the party boards the cargo ship at Dali. It starts out quickly, becomes slower by the middle section, then reverts back to the faster beginning. "Unrequited Love" (also known as "Unfathomable Reminiscence") is a slower, more melancholy variation of the middle section of "Zidane's Theme". "Not Alone" plays when Zidane learns the truth about his existence and refuses his friends' help.

Other Appearances
Edit
Zidane appears as a legendary (5-stars) Triple Triad card.
Zidane Tribal Card

Card No.
76
Total
29
Type
None
Description
Obtain
Random from Gold Triad Card.
Main article: Zidane Tribal/Dissidia
Zidane is one of the warriors summoned by Cosmos to oppose Chaos, and stands as the hero representing Final Fantasy IX, opposing Kuja.
Traveling with Bartz, Zidane turns their quest for the Crystals into a treasure hunt, which ends abruptly when Bartz falls into a trap and is captured. Blaming himself, Zidane meets up with Squall and reunites with Bartz, only to be captured himself. These traps have been set in place by Kuja who desires to break Zidane's spirit with hopelessness and loneliness.
His alternate form is a palette swap based on his Yoshitaka Amano artwork.
Zidane returns in the prequel to the first Dissidia along with the other characters from the game. Having been through several cycles of war and recovered all his memories, he is on good terms with Kuja, who seeks to betray Chaos and lead Zidane and his friends to Chaos's throne so they can defeat him together.
Kefka derails Kuja's scheme and summons manikins to attack Zidane, Bartz and Squall. To save face with the warriors of Chaos so as not to be persecuted for his betrayal, Kuja feigns having deceived the warriors of Cosmos, and reluctantly defeats the three but allow them to escape. Zidane is later incapacitated by Kain, who wishes to save him from defeat by the manikins.
Zidane's second alternate outfit is the armor he wore while disguised as a Knight of Pluto in Final Fantasy IX. As a bonus fourth outfit available for download, Zidane wears the hooded black cloak he wore to disguise himself in the ending of Final Fantasy IX.
A quick-witted member of Tantalus, that famous group of part-time theatre players and full-time thieves, Zidane has never been able to say no to a pretty face. In the midst of a play, he kidnaps Princess Garnet of Alexandria and soon finds himself embroiled in political plays between great nations on her behalf. What began as a scripted tale on a small theater ship will evolve into a sprawling epic which will decide the survival of an entire planet.
—Online description
Zidane is a default playable character in Theatrhythm Final Fantasy.
He is a Speed and Treasure oriented character. His Limit, Grand Lethal, deals damage in direct proportion to his Strength and Level.
| Level | HP | CP | Strength | Magic | Agility | Luck |
| --- | --- | --- | --- | --- | --- | --- |
| 1 | 203 | 8 | 15 | 12 | 21 | 15 |
| 10 | 808 | 14 | 35 | 27 | 47 | 34 |
| 20 | 1,481 | 20 | 57 | 44 | 76 | 55 |
| 30 | 2,154 | 26 | 79 | 61 | 106 | 76 |
| 40 | 2,827 | 33 | 100 | 78 | 135 | 97 |
| 50 | 3,500 | 38 | 122 | 95 | 165 | 118 |
| 60 | 4,173 | 44 | 144 | 112 | 194 | 138 |
| 70 | 4,846 | 50 | 166 | 129 | 223 | 159 |
| 80 | 5,032 | 50 | 172 | 134 | 232 | 166 |
| 90 | 5,217 | 50 | 179 | 139 | 240 | 172 |
| 99 | 5,384 | 50 | 184 | 144 | 248 | 177 |
iOS Stats
Edit
Zidane returns as a default playable character. If the player did not select him among their party of four, he can later be unlocked by collecting Red Crystal Shards.
He is a Speed, Treasure, and Support oriented character. His Limit, Grand Lethal, functions the same as before, dealing damage in proportion to his Strength and Level.
| Level | CP | HP | Strength | Magic | Agility | Luck | Stamina | Spirit |
| --- | --- | --- | --- | --- | --- | --- | --- | --- |
| 1 | 9 | 209 | 12 | 11 | 21 | 15 | 11 | 10 |
| 50 | 38 | 3606 | 92 | 91 | 165 | 119 | 89 | 80 |
| 99 | 50 | 5547 | 138 | 137 | 249 | 180 | 134 | 121 |
Abilities
Edit
Zidane appears in Pictlogica Final Fantasy as a playable character.
Zidane is an ally and a summonable Legend in Final Fantasy Airborne Brigade.
This Tantalus Theatre Troupe member really knows how to touch—er, treat a lady.
—Description
Zidane is an exclusive character only available from the Premium Character Shop as a random downloadable content. He uses the Thievery ability during battle.
Zidane appears in Final Fantasy Record Keeper.
Zidane appears in the Final Fantasy Trading Card Game and is represented in numerous cards: some of the Wind element and some of the Shine element. His Wind cards depict him in his Dissidia artwork and Yoshitaka Amano artwork. His Shine cards depict him in a screenshot from a Final Fantasy IX FMV as well as his render and his Theatrhythm Final Fantasy artwork.
Non-Final Fantasy AppearancesEdit
Zidane has appeared in Itadaki Street Portable as a playable character.


Zidane is set to appear in Puzzle & Dragons as part of the Final Fantasy Collaboration.
Etymology
Edit
[view  · edit  · purge]Zidane is a European variant of the Arabic name Zeydan, meaning "increases the faith." His name has varied in spelling according to the game's localization as Yitán (Spanish), Gidan (Italian) and Djidane (French).
All spellings of Zidane's name are somewhat phonetically close to the French word gitane, which means "gypsy", although this word is used for women. Vincent Zouzoulkovsky, lead translator of the French version of Final Fantasy IX, revealed in an interview the change from the official spelling "Zidane" to the French spelling "Djidane" was done to avoid misplaced association between the character and the French footballer Zinedine Zidane.
Long before Final Fantasy IX, Hironobu Sakaguchi had already used the name ジタン; it was in the first game he ever made, The Death Trap. ジタン is romanized "Gitanes" in The Death Trap and "Zidane" in Final Fantasy IX, but it is the same word in Japanese.
In game, Zidane may have received his name from the character in Lord Avon's I Want To Be Your Canary, as he was presumably named by Baku.
His name is commonly mispronounced "zih-DAYNE", but Dissidia Final Fantasy and Dissidia 012 Final Fantasy have confirmed the pronunciation as "zih-DAHN".
The surname Tribal may come from the word "tribe".
The only time Zidane uses his prehensile tail is when he evades Steiner on the cargo ship.
The Tantalus logo seems to symbolize Zidane—it is blue and bears a heart, a dagger, and a pair of angel wings.
Zidane's birthday is in September, the ninth month of the year, appropriate for the protagonist of the ninth installment of the Final Fantasy main series.
References
Edit