Ad blocker interference detected!
Wikia is a free-to-use site that makes money from advertising. We have a modified experience for viewers using ad blockers

Wikia is not accessible if you've made further modifications. Remove the custom ad blocker rule(s) and the page will load as expected.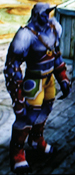 Zev Ronso is a Ronso who can be recruited as a blitzball free agent. Despite wearing a blitzball uniform identical to the male Ronso players for the Ronso Fangs, he is not a member of the default team. In terms of stats, Zev is a jack-of-all-trades. For his first 70 levels, his AT is well below average. From 71 to 99, however, it skyrockets to one of the top AT stats in the game. This comes with a tradeoff, however, as his SH, which is high enough to make him a legitimate scoring threat through the low- and mid-levels, tapers off and becomes near-useless at the highest levels. While his SP stays just below-average throughout, he is still a much faster swimmer than his fellow Ronso.
Blitzball Stats
Edit
Location
Luca Harbor, Number 5 Dock
Key Techniques
Anti-Wither
Volley Shot
Pile Venom
| LV | 1 | 5 | 10 | 15 | 20 | 25 | 30 | 35 | 40 | 45 | 50 | 60 | 70 | 80 | 90 | 99 |
| --- | --- | --- | --- | --- | --- | --- | --- | --- | --- | --- | --- | --- | --- | --- | --- | --- |
| HP | 230 | 547 | 936 | 1,317 | 1,691 | 2,057 | 2,416 | 2,767 | 3,111 | 3,447 | 3,776 | 4,411 | 5,016 | 5,591 | 6,136 | 6,600 |
| SP | 52 | 52 | 52 | 52 | 53 | 53 | 53 | 54 | 54 | 54 | 55 | 55 | 56 | 56 | 57 | 57 |
| EN | 12 | 14 | 16 | 18 | 20 | 23 | 25 | 28 | 31 | 34 | 37 | 43 | 50 | 58 | 66 | 73 |
| AT | 7 | 7 | 7 | 8 | 9 | 10 | 12 | 14 | 16 | 19 | 22 | 28 | 36 | 45 | 55 | 65 |
| PA | 7 | 10 | 13 | 17 | 20 | 23 | 26 | 28 | 31 | 34 | 36 | 41 | 45 | 48 | 52 | 54 |
| BL | 7 | 13 | 18 | 21 | 24 | 27 | 29 | 31 | 33 | 35 | 36 | 40 | 43 | 45 | 48 | 50 |
| SH | 11 | 13 | 15 | 17 | 19 | 21 | 22 | 24 | 25 | 27 | 28 | 30 | 32 | 34 | 35 | 35 |
| CA | 1 | 1 | 1 | 2 | 2 | 3 | 3 | 4 | 5 | 5 | 6 | 7 | 9 | 10 | 12 | 13 |
Techniques
Edit
Starting Techniques: Goldem Arm, Tackle Slip, Venom Pass, Wither Pass, Wither Pass 2