Zell Dincht
18,962 pages on
this wiki
Talk

52
Zell Dincht is a playable character in Final Fantasy VIII. His loud and energetic personality is a foil to Squall's cold silence. Zell is a master of hand-to-hand combat and prefers to let his fists guide him out of situations his mouth cannot.
Appearance
Edit
Zell is short and has uniquely styled spiky blond hair and blue eyes. He wears a black vest with a red decor along the zipper, a black beater, baggy denim shorts, and black and red tennis shoes. While in Garden he at times wears the SeeD uniform or the SeeD cadet uniform, though he wears it with the sleeves rolled up and the jacket halfway unzipped, revealing a white t-shirt underneath. He has a black tribal tattoo on the left side of his face.
Personality
Edit
Zell is a consummate martial artist and his skills are unsurpassed in Garden. Zell never backs down from a challenge and stands up for what he believes is right. He is energetic, loud, overconfident in his abilities, but tends to not think things through and overreact to being teased. He attempts to befriend everyone he meets. He is often in trouble with either the Disciplinary Committee or the Garden Faculty for running through the halls, or riding T-Boards on Balamb Garden premises, but despite this, Zell is a model pupil with an interest in world events; when the party arrives at a new location, he will often offer a summary of the place's history.
Zell has a close relationship with his mother and is a prominent figure among Balamb Town, as pretty much everyone there knows him. Zell admires his grandfather, who used to be a soldier, and aspires to follow in his footsteps. Zell loves hot dogs (bread in the Japanese version), but due to high demand there are never any left for him by the time he shows up.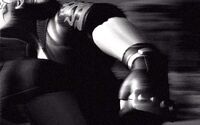 Zell wears gloves to augment his hand-to-hand fighting prowess. Zell's weapons can increase his attack power and hit accuracy. Like all characters, Zell's weapon can be upgraded at a Junk Shop with the Weapons Monthly magazine providing recipes for better weapons.
There are four glove models available for Zell:
Zell's Limit Break is Duel where groups of button sequences appear on the screen and the number of attacks depends on how many moves the player can input in the allotted time. The time allotted is between 4 and 12 seconds, depending on a hidden metric called the Crisis Level.
Zell's Duel are believed to be the strongest Limit Break in the game, as the button formations are quick allowing for multiple hits. Certain button combos lead to finishers, flashy special attacks that end the Duel. Zell can learn new Limit Breaks by reading the Combat King magazine. The abilities can be used before being unlocked by inputting the correct button combination, but they will not appear as an option.
| LV | HP | Str | Vit | Mag | Spr | Spd | Luck |
| --- | --- | --- | --- | --- | --- | --- | --- |
| 1 | 252 | 2 | 1 | 1 | 0 | 20 | 14 |
| 10 | 627 | 9 | 7 | 7 | 5 | 22 | 15 |
| 20 | 1035 | 16 | 12 | 14 | 9 | 23 | 15 |
| 30 | 1435 | 22 | 17 | 19 | 14 | 25 | 16 |
| 40 | 1828 | 27 | 21 | 24 | 17 | 26 | 17 |
| 50 | 2212 | 32 | 25 | 29 | 20 | 28 | 17 |
| 60 | 2589 | 36 | 28 | 33 | 22 | 29 | 18 |
| 70 | 2958 | 40 | 30 | 36 | 24 | 31 | 18 |
| 80 | 3320 | 43 | 32 | 38 | 26 | 32 | 19 |
| 90 | 3673 | 45 | 33 | 40 | 26 | 34 | 20 |
| 100 | 4018 | 47 | 33 | 42 | 27 | 35 | 20 |
Zell Card

Element
None
Refine
1 refines into 3 Hyper Wrists
Drop
N/A
Card
N/A
Level 10 (Player Card)
Win
Ma Dincht in Balamb Town.
The CC Group in the Ragnarok airship on disc 4.
After Balamb Garden becomes mobile, Zell becomes available to challenge to a match of Triple Triad. When not in Squall's party he frequents the Balamb Garden lobby outside the library, where he can be challenged. He does not possess any rare cards.
Creation and development
Edit
Zell was designed to look and act like a main character of a shōnen manga (Japanese comic-books intended primarily for teenage boys). The spiky hair, his boyish outfit, and his comedic though confident personality, are all reminiscent of the qualities a protagonist of these comics usually exhibits.[3] According to the Final Fantasy VIII Official Strategy Guide, this concept is reflected by Zell's neighbors in Balamb Town, who think of him as a "comic-book type superhero".
The inspiration for Zell's tattoo came from a music video that featured a man with a full body tattoo resembling tribal origin and design. Mike Tyson also has a similar facial tattoo.

Other appearances
Edit
An icon sprite of Zell appears in the PocketStation memorycard file manager.

Zell appears in Pictlogica Final Fantasy as a playable character.
Zell is a summonable Legend in Final Fantasy Airborne Brigade.
Zell appears in Final Fantasy Artniks.

Zell is a playable character who can be recruited as the First Time Reward for completing Galbadia Garden, Part 3 on the Classic difficulty in the realm FF VIII of the core dungeons. He could also be recruited during the Challenge Event Gunblade of the Sorceress as the First Time Reward for completing the event's stage SeeD Field Exam, Part 3 in In the Garden track. He has also appeared in A Meeting Beyond Time and Broken Chains as a supporting character.
Assessment
Zell is a SeeD whose combat role is Physical Attack.
Zell joins a long line of Monks that includes characters like Refia, Sabin, Tifa, and Snow. Like a typical Monk, his HP, Attack, Defense, and Speed are his greatest assets, adding up to big firepower from a small package. His growth curve doesn't quite match Galuf's, but Zell is still a capable attacker and does his best work in the front row.
Stats
Level
HP
Attack
Defense
Magic
Resistance
Mind
Accuracy
Evasion
Speed
1
200
11
8
8
8
8
20
22
115
10
1,008
34
25
17
17
18
20
22
121
20
1,740
55
40
28
29
30
20
23
128
30
2,417
75
54
40
42
43
21
23
136
40
3,060
94
68
52
56
57
21
24
143
50
3,679
112
81
65
70
72
22
25
151
Rank

Max: 5

4
5
3
2
2
2
3
3
5
Abilities
Zell can use Combat abilities up to rarity rank 5, Celerity abilities up to rarity rank 3, and Monk abilities up to rarity rank 5.
His default Soul Break is Punch Rush which at the expense of one Soul Gauge segment deals damage to one target equal to 150% damage potency of a conventional attack. The fist Maverick (VIII) allows Zell to use Burning Rave which at the expense of one Soul Gauge segment deals physical damage to all enemies and temporarily raises Attack of all allies.
Upon breaking Zell's initial level cap, he acquires the Record Materia Untapped Power, which increases the wielder's Attack as s/he takes damage.
Equipment
Zell can equip the following weapon types: daggers and fists. The fist Maverick (VIII) allows Zell to use Burning Rave.
He can equip the following armor types: hats, light armor, and bracers.
He can equip accessories.
Gallery
Zell appears in the Final Fantasy Trading Card Game and is represented in a Fire-elemental cards depicted in his Final Fantasy VIII and Final Fantasy Airborne Brigade artworks.
Zell appears on a Triple Triad card. The card has different values than the one in Final Fantasy VIII.

Merchandise
Edit
Zell has a Triple Triad card in the physical version of the game, released by Bandai in 1999. Zell and Irvine appear on the Guardian Force Diablos in a collectible resin statue made by KOTOBUKIYA. He has also appeared in Coca-Cola bottle cap figure and action figures.
Etymology
Edit
Zell is a German family name and many locations called Zell exist in Germany. Perhaps for this reason Zell is called Xell in the German version of Final Fantasy VIII.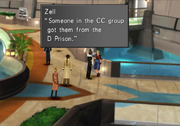 When not assigned to the player party Zell can be found outside the Balamb Garden library. He sometimes wears his cadet uniform.
Zell's birthday, March 17, is St. Patrick's Day, a widely known Irish celebration. March 17th is also Muay Boran Day in Thailand; Muay Boran is the ancient world equivalent to Muay Thai or Thai Boxing from where many of Zell's kicks and fighting stance seem to have been inspired.
In the game's English translation, Zell loves hot dogs, but in the original Japanese version Zell's favorite food is flavored bread. In the French version, his favorite food is "Bretzel".
During Zell's intro FMV the SeeD symbol behind him has been flipped.
Zell owns a T-Board, a device similar to a

skateboard

, but with no wheels, instead hovering at low altitudes.
The Ragnarok is always piloted by Selphie whenever she isn't in the player party. If Selphie is unavailable, the Ragnarok is piloted by Zell, and if both are in the player party, Quistis takes the reins.
The only time Zell doesn't wear his gloves is during the SeeD inauguration ball.
When the party heads to Galbadia Garden for the first time, after Squall rushes out of the reception room, Zell can be found doing push-ups in the hall downstairs.
Zell's tattoo is available in Character Creation mode in Final Fantasy XIV.
References
Edit