Zeirchele Falls
Talk

0
13,960 pages on
this wiki
Cloud

: I couldn't finish 'em. Looks like this's gonna get complicated.
The following tables are incomplete and require the Info on PSP exclusive battle areas to be filled. If you wish, please examine the table and add anything missing. Remove this notice upon completion.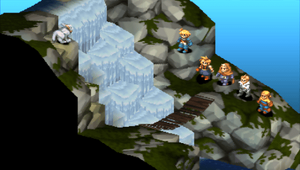 "Few can help but be enchanted by the sight of Zeirchele Falls cascading down the stairlike Algost Mountains."
—Description
Zeirchele Falls, also known as Zirekile Falls (ゼイレキレ川, Zeirekire-kawa?) is a location from Final Fantasy Tactics. It is a great waterfall located west of Fort Besselat. It is here that Delita Heiral fleeing toward Besselat with Princess Ovelia in tow ran into trouble with knights of the Order of the Northern Sky, allowing Ramza Beoulve to catch up. Goffard Gaffgarion betrayed them and joined the Northern Sky's attack, but Ramza and Agrias Oaks drove Gaffgarion away and then helped Delita dispatch the Northern Sky. Delita then allowed Ramza to take Ovelia to Lionel Castle.
Battle Information
Edit
Zeirchele Falls
Edit
← Zeirchele Falls →
Units

Enemies

6 (Gaffgarion, 5 Knights)

Guests

Formation

X X . .
X X X A

Additional info
Gaffgarion becomes an enemy unit at the beginning of this battle, and will have the abilities and equipment you put on him.
Conditions
Protect Ovelia.
Weather
Clear day
Enemy level
8 - 11
Recommended level
10 - 12
Team capacity
3 + Ramza
Number of teams
1
Battle Trophies
None
Hidden items
Coral Sword
Terrain
River, Waterfall, Grassland, Stone Outcropping, Bridge
Geomancy
Torrent, Tanglevine, Tremor, Wind Slash
Second Battle (PSP Exclusive)
Edit
← Zeirchele Falls →
Units

Enemies

3 (Knight, Black Mage, Archer)

Guests

Formation

Additional info
Conditions
Protect Ovelia.
Weather
Clear night
Enemy level
8
Recommended level
25
Team capacity
Delita
Number of teams
1
Battle Trophies
None
Hidden items
None
Terrain
River, Waterfall, Grassland, Stone Outcropping, Bridge
Geomancy
Torrent, Tanglevine, Tremor, Wind Slash
Random Battles
Edit
Random Battle at Zeirchele Falls
Possible enemies
Terrain
River, Waterfall, Grassland, Stone Outcropping, Bridge
Geomancy
Torrent, Tanglevine, Tremor, Wind Slash
Hidden items


Treasures
Edit