Zaon
Talk

1
13,961 pages on
this wiki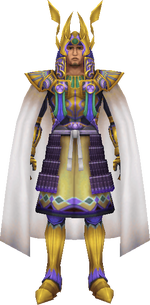 Zaon (ゼイオン, Zeion?) is a non-player character in Final Fantasy X. He was the husband of the first High Summoner, Lady Yunalesca, and they both lived in Zanarkand over 1000 years before the events of Final Fantasy X.
When Sin first appeared, Zaon became Yunalesca's guardian. She used him as a sacrifice to produce the first Final Aeon, which she used to defeat Sin. Thus, Zaon became Yu Yevon's first host, and became the second Sin. After being defeated, his unsent spirit managed to find its way to Via Infinito.
In Final Fantasy X-2, Yuna, Rikku, and Paine can enter Via Infinito as a side mission during Chapter 5. They find Zaon in a fiend form called 'Paragon', as the second to last boss. The girls beat him, but he is destroyed by Trema.
Main article: Paragon (Final Fantasy X-2)
Zaon is fought as a fiend similar in appearance to the Omega Weapon. He boasts high HP, Strength, Defence, and Agility, yet his Magic and Magic Defense are average. His normal state gives him access to Attack, Big Bang, Genesis, and Supernova, however when under the effects of the oversoul, Paragon gains access to tier three Black Magic spells, Ultima, Holy, Demi, Dispel, and Judgment making him a more fearsome foe.