Zangetsu is one of the Eblan Four in Final Fantasy IV: The After Years, and is known as Zangetsu of Thunder. He is an elderly man with aspirations of becoming a shinobi, despite being a late bloomer, and admires Edge, who looks young enough to be his son, as his master.

This article or section is a stub about a character in Final Fantasy IV: The After Years. You can help the Final Fantasy Wiki by expanding it.
FFIV-I- Zangetsu is one of the characters Edge talks to before heading to the Cave of Eblan. He is seen guarding the entrance to Eblan if the player, when in control of Edge, goes outside the cave and heads back to the castle.
FFIVTAY When Eblan receives word of Baron stealing Crystals from other nations, the Eblan Four become eager to assist Edge, and are sent on missions to gather information. Zangetsu disguises himself as a dwarf to freely roam King Giott's castle, and after confirming the Dark Crystal is still safe and the Tower of Babil is reactivated, he returns to the surface via a secret tunnel near the castle.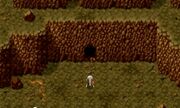 After the mission is completed, Zangetsu returns to Eblan by walking across the sea. He reunites with Edge and the other Eblan Four within the Tower of Babil and after being forced to escape from the Mysterious Girl and Ifrit they fall to the Underworld and into the Falcon.
In the Gathering Tale, Zangetsu watches over Porom and the other incapacitated characters below the deck of Falcon. During the ending, he is seen as a dwarf as Luca upgrades the Falcon. Zangetsu and the other Ninja Guard of Eblan renew their vows of loyalty to Edge awaiting for their next mission.

Zangetsu is effective for both physical and magical combat, though he is limited to Lightning-elemental Ninjutsu attacks.
Zangetsu is above average in offensive stats, with decent Strength and Speed. His HP is greater than the mage characters but not on-par with other physical attackers. His largest asset is his very high Intelligence, which surpasses Leonora's and almost equals Golbez's.
| Level | HP | MP | Strength | Speed | Stamina | Intelligence | Spirit |
| --- | --- | --- | --- | --- | --- | --- | --- |
| 9 | 260 | 52 | 8 | 11 | 9 | 8 | 4 |
| 20 | 646 | 114 | 15 | 17 | 15 | 14 | 8 |
| 30 | 1172 | 167 | 23 | 22 | 20 | 19 | 12 |
| 40 | 1851 | 223 | 32 | 28 | 26 | 24 | 16 |
| 50 | 2611 | 288 | 40 | 34 | 34 | 36 | 20 |
| 60 | 3409 | 360 | 48 | 40 | 41 | 49 | 22 |
| 70 | 4252 | 427 | 56 | 45 | 47 | 59 | 24 |
| 80 | 4639 | 451 | 59 | 46 | 49 | 61 | 26 |
| 90 | 4982 | 485 | 61 | 48 | 51 | 64 | 27 |
| 99 | 5308 | 517 | 64 | 49 | 53 | 66 | 28 |
Abilities
Edit

Zangetsu's abilities are Ninjutsu and Human Kite, which functions identically to Jump. He is best equipped with spears for this reason, as like Jump, Human Kite does increased damage when the user is equipped with a spear. Zangetsu can perform Band abilities with the other Eblan ninjas, as well as Luca due to his time undercover at the Dwarves' Castle.
Band Abilities
Ability
Members
MP
Effect
Mecha-kite

Zangetsu (Human Kite)
Luca (Analyze)

15
Attack all enemies with a super-powered kite.
Gale Rush

Zangetsu (Ninjutsu)
Tsukinowa (Ninjutsu)

12
Cast Haste on all party members.
Gale Twin Break

Edge (Ninjutsu)
Zangetsu (Human Kite)

14
Attack all enemies from above.
Wheel of Elements

Zangetsu (Ninjutsu)
Tsukinowa (Ninjutsu)
Gekkou (Ninjutsu)
Izayoi (Ninjutsu)

15
Attack all enemies with fire, ice, lightning and wind.
Ultimate Art: Advent of the Phoenix

Edge (Mug)
Zangetsu (Human Kite)
Tsukinowa (Steal)
Gekkou (Shuriken)
Izayoi (Illusions)

20
Create a flaming phoenix to damage all enemies equivalent to lost HP of party.
Equipment
Edit
Zangetsu can equip the same equipment as Edge, with the addition of spears instead of claws. Because he cannot dual wield, it is usually best to keep him equipped with a spear.
Weapons
Boomerangs
Daggers
Katanas
Spears

Boomerang
Metal Boomerang
Chakram
Wing Edge
Moonring Blade
Rising Sun

Knife
Dagger
Mythril Knife
Dancing Dagger
Mage Masher
Triton's Dagger

Kunai
Kodachi
Kogarasu
Crimson Cherry
Ashura
Boltslicer
Kotetsu
Kiku-ichimonji
Murasame
Masamune
Mutsunokami

Spear
Javelin
Trident
Partisan
Wind Spear
Flame Lance
Obelisk
Blood Lance
Gungnir
Wyvern Lance
Holy Lance
Armor
Shields
Head
Body
Arms

Leather Cap
Headband
Feathered Cap
Green Beret
Steel Headplate
Black Cowl
Beret
Chakra Band
Goblin Mask
Officer's Hat
White Tiger Mask
Ribbon
Genji Helm
Red Cap
Adamant Helm
Glass Mask

Clothing
Bard's Tunic
Leather Clothing
Foot Ninja Gear
Bronze Breastplate
Shinobi Gear
Kenpo Gi
Silver Breastplate
Mist Wrap
Black Belt Gi
Professor's Robe
Exorcist's Gown
Power Sash
Fire Scarf
Genji Armor
Red Jacket
Brave Suit
Black Garb
Blue Armor
Adamant Armor

Cursed Ring
Ruby Ring
Iron Gloves
Iron Armlet
Power Armlet
Talisman
Hyper Wrist
Silver Armlet
Rune Armlet
Mythril Gloves
Diamond Armlet
Bone Wrist
Genji Gloves
Giant's Gloves
Protect Ring
Adamant Gloves
Crystal Ring
Flan Ring
Sprint Ring
Economical Ring
Reach Ring
Provoke Ring
Limit Ring
Single Star
Twin Stars
Rapid Ring
Rapid Ring v2
Gil Band
Gil Band v2
Level Band
Level Band v2
Rare Band
Rare Band v2
Treasure Hunter
Treasure Hunter v2
Zangetsu is fought as a boss, along with the remaining Eblan Four, at the beginning of Edge's Tale, as part of a training session.
Other appearances
Edit

This article or section is a stub about a character in Pictlogica Final Fantasy. You can help the Final Fantasy Wiki by expanding it.

Zangetsu appears in the Final Fantasy Trading Card Game.

Etymology
Edit
Like the other Eblan Four, Zangetsu's name is related to the moon. [view · edit · purge]Zangetsu means "morning moon" in Japanese.
Zangetsu is the only member of the Eblan Four to lack an exclusive Ninjutsu skill.