Series appearances
Edit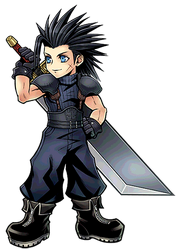 Zack appears as a playable character.

Zack appears as a playable character and is the main representative of Crisis Core: Final Fantasy VII. He can be available from the start by transferring save data from the second demo. However, if the player did not select him among their party of four, or download the demo, he can later be unlocked by collecting Red Crystal Shards.
He is an Offense oriented character. His Limit Break, Meteor Shots, deals damage in proportion to his Magic.
Stats
Abilities
FFAB Zack is an ally and a summonable Legend. He is depicted in his Final Fantasy VII outfit.
Portraits
Ability Cards
Legend Cards
Zack could be recruited into the party during the Challenge Event Aspiring Hero as the First Time Reward for completing the event's VR Gaia's Cliffs Caves stage.
Assessment
Zack has high Magic, Resistance, Mind, Evasion, and Speed, cannot use Samurai abilities, has access to a low number of Spellblade abilities, access to Celerity abilities, and gains access to Support abilities.
Stats
Level
HP
Attack
Defense
Magic
Resistance
Mind
Accuracy
Evasion
Speed
1
200
12
8
8
9
8
20
24
107
10
1,010
30
24
18
22
17
20
24
115
20
1,744
50
39
30
37
29
20
25
123
30
2,422
71
52
43
52
41
21
25
130
40
3,065
91
65
57
67
55
21
26
136
50
60
4,288
132
90
87
98
83
22
27
149
65
4,582
142
96
95
105
90
23
27
152
70
4,874
152
102
102
113
98
23
28
155
80
5,448
173
113
118
128
113
23
28
161
Rank

Max: 5

4
5
2
2
2
1
3
3
4
Abilities
Zack can use Spellblade abilities up to rarity rank 3, Combat abilities up to rarity rank 5, Support abilities up to rarity rank 3, and Celerity abilities up to rarity rank 5.
His default Soul Break is Triple Cut, that at the expense of two Soul Gauge segments deals three successive attacks on random targets.
Equipment
Zack can equip the following weapon types: daggers, swords, and katanas. The sword Buster Sword (VII-CC) allows Zack to use Rush Assault.
He can equip the following armor types: shields, hats, helms, light armor, heavy armor, and bracers.
He can equip accessories.
Zack appears as a summonable Champion.
TCG Zack has appeared on numerous fire-elemental cards.
Zack appears on a Triple Triad card in the version playable via Final Fantasy Portal App.

Guest appearances
Edit
Zack is a secret playable character unlocked by finishing the game with all the Final Fantasy VII characters. He functions more or less as a clone of Cloud in the arcade, versus, and minigame events. Like Cloud, he fights both hand-to-hand and with the Buster Sword, and has renamed versions of Cloud's techniques, including Meteo Shots, High Braver, True Cross-slash, and Unseen Omnislash.
Zack's fighting style is identical to Cloud's fighting style even his unique ability to wield the Buster Sword and to utilize few of his Limit Breaks. However the names of Cloud's Limit Break was later renamed to his own moves. His win animation is identical to Cloud's win animation.
In Kingdom Hearts Birth by Sleep, a slightly younger version of Zack appears in the Olympus Coliseum world. He wears a Hercules-based version of his SOLDIER uniform and uses his original sword from Crisis Core -Final Fantasy VII-. He is shown fighting Terra, talking with Ventus, and flirting with Aqua, in the similar manner he flirted with Aerith in Crisis Core -Final Fantasy VII-. He even asks Aqua out on a date. He retains his habit of doing squats. During the credits of the final episode of Birth by Sleep, he stands in the doorway of the Coliseum (much like he did at the end of Final Fantasy VII: Advent Children) watching Phil stand on Hercules while Hercules is doing push-ups. While Zack is in the doorway, he spots a single black feather falling, signifying the presence of Sephiroth.
According to an interview with Famitsu magazine, Tetsuya Nomura stated Zack was included due to his status as a character from the past in Final Fantasy VII, to tie into Birth by Sleep taking place ten years before Kingdom Hearts. He is the only Final Fantasy character (aside from moogles) to appear in the game because Nomura felt the series would have too many side stories, which could confuse some players. A remix of the "Successor" theme from Crisis Core, titled "A Date with Fate", is featured in the game.
He appears in Kingdom Hearts Union χ[Cross], on several medals.