Zack Fair
19,191 pages on
this wiki
Talk

111
Zack Fair is a non-playable character in Final Fantasy VII and the main protagonist of its prequel, Crisis Core -Final Fantasy VII-. The second wielder of the Buster Sword before Cloud Strife, Zack received the Buster Sword from his mentor Angeal Hewley. Zack is a 1st Class SOLDIER and is Cloud's best friend during their time working for the Shinra Electric Power Company.
In Final Fantasy VII, Zack only appears in flashback sequences which portray him as almost identical to Cloud Strife, the game's main protagonist. These sequences elaborate on Cloud's past and his connection to Sephiroth, the game's villain. In Crisis Core -Final Fantasy VII-, Zack's history and influence upon the Final Fantasy VII world are brought into focus. He also appears in Last Order -Final Fantasy VII-, Before Crisis -Final Fantasy VII-, and briefly in Final Fantasy VII: Advent Children and Final Fantasy VII: Advent Children Complete.
Appearance
Edit
Zack is tall, well-built, and has the iconic sky-blue "Mako eyes" many SOLDIER members have. Zack's appearance goes through a series of changes throughout Crisis Core -Final Fantasy VII-. He starts with spiky black hair and having several bangs framing the sides of his face. At first, he wears a dark blue SOLDIER uniform, gloves, boots, and is equipped with a standard SOLDIER sword, even if most 2nd Class members of SOLDIER wear red and magenta uniforms. Later, he is upgraded to a black 1st Class SOLDIER uniform. Later, Zack obtains the Buster Sword as well as an X-shaped scar on his cheek and his spiky hair become longer and wilder with a lock of hair hanging down in front of his face. He has a silver earring in his left ear.
Personality
Edit
Zack has a positive attitude and is always ready for work. His energetic personality and short attention span earned the nickname "Zack the Puppy" from Angeal. He is loyal to SOLDIER and dreams of becoming a hero. He is sociable and easily befriends almost everyone. Angeal's words of valuing dreams and honor have had a great impact on Zack. He is flirty with women and protective of his friends.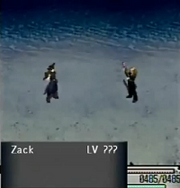 Zack is fought as a boss in Chapter 19 when the Player Turk intercepts him on a beach after getting orders to track down an escaped research sample. The Turk is shocked to discover the subject is Zack, and despite Zack pleading for the Turk to not turn him in, the Turk fights him. In the battle Zack runs around the battlefield evading the player's attacks rather than attacking him/her, and after a while he runs away.
The player catches up with him and another battle ensues, but Zack still won't attack the player, instead trying to convince them to his side. The second battle ends the same as the first one, with Zack running away. The player is attacked by an Adamantaimai, and after defeating it the player will follow after Zack who has reunited with Cloud. After seeing Cloud's Mako poisoning, the Player Turk will not fight Zack again, and will call Tseng that s/he has lost the targets.

At the beginning, Zack is a SOLDIER 2nd Class and has the usual abilities expected of a SOLDIER member. As he is personally mentored by 1st Class SOLDIER member Angeal, and briefly by Sephiroth, it hints toward Zack being a cut above the other 2nds. Early in the game Zack is promoted to 1st Class and proves himself worthy of the rank. As well as being a master swordsman, Zack has mastered the art of Materia Fusion and the use of Materia, and is a skilled shot with a sniper rifle.
Considering he was capable of battling foes such as Sephiroth and Genesis, not to mention an entire division of the Shinra Army, it can be assumed Zack is one of the most powerful characters in the Final Fantasy VII universe.
Equipment
Edit
Zack Fair wields four weapons. As a SOLDIER 2nd Class and briefly after his promotion to 1st, he uses a SOLDIER sword, the traditional weapon of most SOLDIER members. Zack later inherits the Buster Sword and in Costa del Sol, Zack fights briefly with a parasol, swinging it around like a sword, but for gameplay purposes it functions just as well as a weapon as the Buster Sword. Later on, in the mission after Nibelheim, he uses a sniper rifle.
The higher in ranks Zack climbs, the more accessories he can also wield in battle.
Limit Breaks
Edit
Zack is a unique character in the Final Fantasy VII universe in that he can copy and adapt the Limit Breaks of other characters upon meeting them, and is thereafter able to perform those Limit Breaks as his own. The Crisis Core Complete Guide guide gives two examples of this - Zack adapting Healing Wave from Aerith's Healing Wind, and Meteor Shots from Cloud's Meteorain.[2] This is how Zack can copy the signature attacks of Sephiroth and Genesis, Octaslash and Apocalypse. Zack's own Limit Break is Chain Slash, a quick sequence of five sword attacks. The DMW can perform summons through Summon Mode and Chocobo Mode.
Zack can fight against simulations of himself, as Experiment No. 114 and Experiment No. 123.
Creation and development
Edit
Zack's plot role in Final Fantasy VII was already there before he was created. From the start, it was decided Cloud's cocky personality would be false, but it was only later decided to create a character who Cloud based himself on. Before Zack, Aerith was to see her first love in Cloud, though who that person would be was not yet decided upon, and some early ideas even placed that person as Sephiroth. Later, Zack was placed to serve both as Aerith's first love and to solve the mysteries surrounding Cloud.[3] Since he was so late in development, Zack was one of the last characters drawn by Tetsuya Nomura.
Scenario writer Kazushige Nojima came up with Zack as he went on with his work and so at the beginning there was not much foreshadowing to Zack's existence; Nojima later asked the staff in charge of the event scenes to add foreshadowing to Cloud's true persona and to Zack.[3] The game's directors only had a vague image of Cloud's identity, mainly that it was intended to be mysterious, but the actual unfolding of events was left in Kazushige Nojima's hands. Nojima made not only the scenario but the event scenes as well, and the team ended up doing the test play with no idea how it was going to end, and that's how they first found out the true course of events. Zack was a character Nojima brought in while building up the mystery, so the others had no clue he would be such a pivotal character.[4]
One of the primary reasons Zack was chosen as the protagonist in Crisis Core -Final Fantasy VII- was his predetermined fate.[5]. Yoshinori Kitase has stated that Zack's story had "been cooking for 10 years" as conceptual artwork and back story already existed for him, despite Zack being only a minor character in Final Fantasy VII.[6] Crisis Core was initially meant to have more scenes involving Zack and Cloud's escape to Midgar to expand their connection, but it could not be included due to UMD limitations, and the staff chose to instead focus in Zack's work as a soldier.[7]
When the developers first made the ending scenes for Crisis Core -Final Fantasy VII- they did not have much blood on Zack and Cloud due to working within ratings restrictions. Director Hajime Tabata however though that without the blood the emotions would not be the same and thus the team slowly put more blood on Zack until Tabata was pleased with the scene.[8]
Other appearances
Edit
Zack appears as a playable character and is the main representative of Crisis Core: Final Fantasy VII. He can be available from the start by transferring save data from the second demo of the game. However, if the player did not select him among their party of four, or download the demo, he can later be unlocked by collecting Red Crystal Shards.
He is an Offense oriented character. His Limit Break, Meteor Shots, deals damage in proportion to his Magic.
Abilities
Edit
Zack is an ally and a summonable Legend. He is depicted in his Final Fantasy VII outfit.
Zack could be recruited into the party during the Challenge Event Aspiring Hero as the First Time Reward for completing the event's VR Gaia's Cliffs Caves stage.
Assessment
In comparison to Cloud, Zack has higher Magic, Resistance, Mind, Evasion, and Speed, can't use Samurai abilities, has access to lower number of Spellblade abilities, but better access to Celerity abilities, and gains access to Support abilities.
Stats
| Level | HP | Attack | Defense | Magic | Resistance | Mind | Accuracy | Evasion | Speed |
| --- | --- | --- | --- | --- | --- | --- | --- | --- | --- |
| 1 | 200 | 12 | 8 | 8 | 9 | 8 | 20 | 24 | 107 |
| 10 | 1,010 | 30 | 24 | 18 | 22 | 17 | 20 | 24 | 115 |
| 20 | 1,744 | 50 | 39 | 30 | 37 | 29 | 20 | 25 | 123 |
| 30 | 2,422 | 71 | 52 | 43 | 52 | 41 | 21 | 25 | 130 |
| 40 | 3,065 | 91 | 65 | 57 | 67 | 55 | 21 | 26 | 136 |
| 50 | | | | | | | | | |
| 60 | 4,288 | 132 | 90 | 87 | 98 | 83 | 22 | 27 | 149 |
Abilities
Zack can use Spellblade abilities up to rarity rank 3, Combat abilities up to rarity rank 5, Support abilities up to rarity rank 3, and Celerity abilities up to rarity rank 5.
His default Soul Break is Triple Cut which t the expense of one Soul Gauge segment deals three successive attacks on random targets. The sword Buster Sword (VII-CC) allows Zack to use Rush Assault which at the expense of one Soul Gauge segment launches a series of eight non-elemental attacks on a single target.
Equipment
Zack can equip the following weapon types: daggers, swords, and katanas. The sword Buster Sword (VII-CC) allows Zack to use Rush Assault.
He can equip the following armor types: shields, hats, helmets, light armor, armor, and bracers.
He can equip accessories.
Zack has appeared on numerous fire-elemental cards.
Zack appears on a Triple Triad card in the version playable via Final Fantasy Portal App.

Non-Final Fantasy guest appearancesEdit
Zack is a secret playable character unlocked by finishing the game with all the Final Fantasy VII characters. He functions more or less as a clone of Cloud in the arcade, versus, and minigame events. Like Cloud, he fights both hand-to-hand and with the Buster Sword, and has renamed versions of Cloud's techniques, including Meteo Shots, High Braver, True Cross-slash, and Unseen Omnislash.
Zack's fighting style is identical to Cloud's fighting style even his unique ability to wield the Buster Sword and to utilize few of his Limit Breaks. However the names of Cloud's Limit Break was later renamed to his own moves. His win animation is identical to Cloud's win animation.
In Kingdom Hearts Birth by Sleep, a slightly younger version of Zack appears in Kingdom Hearts Birth by Sleep in the Olympus Coliseum world. He wears a Hercules-based version of his SOLDIER uniform and uses his original sword from Crisis Core -Final Fantasy VII-. He is shown fighting Terra, talking with Ventus, and flirting with Aqua, in the similar manner he flirted with Aerith in Crisis Core -Final Fantasy VII-. He even asks Aqua out on a date. He retains his habit of doing squats. During the credits of the final episode of Birth by Sleep, he stands in the doorway of the Coliseum (much like he did at the end of Final Fantasy VII: Advent Children) watching Phil stand on Hercules while Hercules is doing push-ups. While Zack is in the doorway, he spots a single black feather falling, signifying the presence of Sephiroth.
According to an interview with Famitsu magazine, Tetsuya Nomura stated Zack was included due to his status as a character from Final Fantasy VII's past, to tie into Birth by Sleep taking place ten years before Kingdom Hearts. He is the only Final Fantasy character (aside from moogles) to appear in the game because Nomura felt the series would have too many side stories, which could confuse some players. A remix of the "Successor" theme from Crisis Core, titled "A Date with Fate", is featured in the game.

Merchandise
Edit
Various official merchandise featuring Zack have been released over the years. Zack also appears as part of the artwork on a special edition PlayStation Portable console, has had a Potion energy drink can with his picture, and appeared in the cover of Final Fantasy VII 10th Anniversary Ultimania and Crisis Core -Final Fantasy VII- Complete Guide-.
Etymology
Edit
Zack" is a shortened form of the name "Zachary". [view · edit · purge]"Zachary" is a name of Hebrew origin that means "remembrance of the Lord" or "Jehovah hath remembered". Whether or not his name is meant to be connected to Jenova's name (which is a portmanteau of Jehovah and Nova) is unknown.
Zack's last name was revealed in Crisis Core: Final Fantasy VII to be "Fair". According to Tetsuya Nomura, it is derived from "fair weather", and is intended to contrast with "Cloud Strife".
His original Japanese name is Zax (ザックス), instead of Zack (ザック), and is written as such in Last Order, and other official Square Enix print (books, magazines, action figure boxes, etc). It was most likely changed in the Western releases to sound more like a real-world name. However, his name has recently been romanized as "Zack Fair" in official Japanese media and material.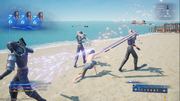 During a DMW scene, Zack tells Aerith that whenever they meet, they should do something in particular. Zack's idea was for her to wear pink, but she thought the idea silly. After this event, she wears her signature pink outfit, probably to surprise Zack when she would see him again. Zack is responsible for buying her the pink ribbon she wears in most of her appearances.
In Costa del Sol, Zack fights with a parasol. In Final Fantasy VII, Aeris can obtain an Umbrella for a weapon.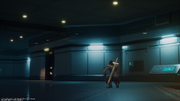 When Aeris and Cloud leave the Gondola during the date in Gold Saucer in Final Fantasy VII she concludes the date by saying "we should get going." In Crisis Core -Final Fantasy VII- she concludes her date with Zack with "I should get going". This could be intended since the two dates share some similarities.
In Final Fantasy VII: International[9], the player can view specific background items in full screen. In Zack's parents' house in Gongaga, one can click on his parents' desk and find a letter he wrote them some years ago, that roughly translates into:
Dear Dad and Mom,
How are you guys?
Sorry for leaving town so suddenly.
I just really wanted to become a SOLDIER.
I bet you're worried now that I've told you...
But now I'm fulfilling my lifelong dream, and I'll do my best in SOLDIER.
P.S. I have a girlfriend.
Zack
Though he does not appear in Dissidia Final Fantasy, nor is he called by name, Zack is referenced several times. During a discussion with other warriors of Cosmos, Cloud states the Buster Sword is not heavy and that "it's ... a memento", a paraphrase of Zack's comment about the blade. One of Cloud's pre-battle quotes ("If I win, are my sins forgiven?"), said when he fights himself, references the guilt Cloud feels over the deaths of Zack and Aerith, and his desire for forgiveness for these failures. Another of his battle quotes is "I'll live your life for you", referencing him being Zack's living legacy and if using Firion against him, he will say "You look like... a friend of mine".
Zack's Japanese voice actor, Kenichi Suzumura, is married to Aerith's Japanese voice actress, Maaya Sakamoto.
If the player performs the correct actions in Crisis Core -Final Fantasy VII- by finding and talking to Cissnei during the time Junon is under attack, Zack can get his own fanclub like many other 1st Class SOLDIERs. Known simply as the "Zack Fair Fanclub," the player's actions determine its popularity by the end of the game.
In Final Fantasy VII, the game code calls the two infantrymen during Cloud's telling of the Nibelheim Incident, "Zax" and "Zako"[12]; "Zax" is what Zack is called in Japanese and "Zako" is a vulgar Japanese word that refers to someone as worthless cannon fodder. "Zako" would be the infantryman who goes missing after the bridge falls, meaning "Zax" is actually Cloud, a play on their role reversal in Cloud's faulty telling of the events.
Zack is Hajime Tabata's favorite Final Fantasy character.[13][14]
External links
Edit
References
Edit