Yunalesca
Talk

10
14,801 pages on
this wiki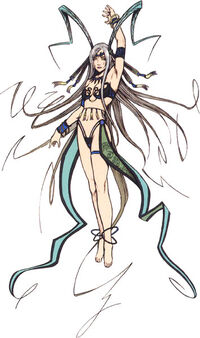 "It is better for you to die in hope than to live in despair. Let me be your liberator."
—Lady Yunalesca
Lady Yunalesca (ユウナレスカ, Yuunaresuka?) is a non-player character and antagonist from Final Fantasy X. She was the first summoner to defeat Sin and save Spira from its ravages.
Appearance and Personality
Edit
Yunalesca is a slim woman with long silver hair that falls past the small of her back, with a short side fringe and long bangs either side of her face. In battle, her hair splays out around her in tendrils. A blue headdress with a yellow bead adorns her brow and branches out at the back of her head into two large zigzagged decorations. She appears to have yellow eyes.
Yunalesca's clothing is exceedingly sparse, consisting of a silver bra and thong, with a tasseled blue and yellow belt around her waist; blue arm and wristbands; green sashes decorated with the Yevon symbol attached either side of her thong; silver anklets and a blue garter round her left thigh.
Being the only person able to bestow the Final Aeon upon a summoner, Yunalesca is frank and to the point, no matter the reaction of those present. While she can be kind, she is also merciless and cares only about upholding the teachings of Yevon, not hesitant to strike down those who dare to question it.
Yunalesca used her husband, Lord Zaon, as a fayth to summon her Final Aeon. Afterward, as an unsent, she greets the summoners who make it to Zanarkand and explains they must sacrifice one of their guardians to become the fayth for the Final Summoning.
For a millennium, this tradition went unchallenged, until the arrival of Lord Braska and his guardians, Jecht and Auron. Though Auron had a change of heart and was no longer willing to witness the sacrifice of his friends, Jecht nonetheless chose to become Lord Braska's Final Aeon. The rest of Spira celebrated the Calm, but Auron was devastated by the loss of his friends.
Returning to Zanarkand, he confronted Yunalesca, learned of the inevitable return of Sin after each Final Summoning, and attacked her in a fit of rage. Auron was struck down, sustaining a massive head wound (the scar covering his right eye). Remembering his promise to protect Braska's young daughter, Auron crawled down Mt. Gagazet, but died on the outskirts of Bevelle, passing his request onto the recently-disgraced Kimahri Ronso.
Ten years later, Lord Braska's daughter, Yuna (named after Yunalesca), decides to follow in her father's footsteps and become a summoner. Sir Auron, now an unsent, joins Yuna's retinue at Luca as a guardian (along with Jecht's son, Tidus) and accompanies her along with the rest of her guardians to Yunalesca's chamber in Zanarkand. Upon learning of the futility of the pilgrimage, Yuna refuses to support Yevon's false traditions in spite of Yunalesca's remonstrances that it would bring hope to the people of Spira. Yunalesca decides to save Yuna from her own sorrow by granting her the peace of death; the guardians fight back, and Yunalesca is seemingly sent.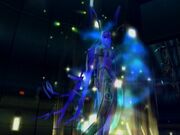 Broken by her defeat (followed shortly by that of her father), Yunalesca's soul travels to join that of her husband in the Via Infinito under Bevelle. Over the next two years, a now "purposeless" Yunalesca became the giant basilisk-type fiend, Chac, finally put to rest by YRP.
In Final Fantasy X-2 International, Yunalesca and Zaon are briefly seen in the ending of the YAU-71's story.
Yunalesca is something of an enigma. Whether she is a true villain or simply misguided is a matter for debate as her motivations are never fully explained.
Maechen speculates her commitment to the perverse status quo might be interpreted as a way of honoring two opposing forces to which she felt particular loyalty: Yu Yevon, her father, and the people of Spira. "It was to quell his wrath that they revered him... and so were born the temples of Yevon... A fair trade, she defeats Sin in exchange for her lord father's honor".

Main article: Yunalesca (Boss)
The party fights Yunalesca in the Zanarkand Ruins. She has three forms, the last two of which often inflict Zombie status on the party.
Other Appearances
Edit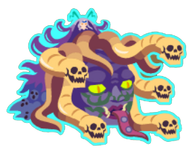 Yunalesca appears in Final Fantasy Airborne Brigade as an enemy during an event called "Showdown". In battle, Yunalesca uses Mind Blast.