Yuna
18,962 pages on
this wiki
Talk

203
Yuna is a playable character in Final Fantasy X, and the main protagonist of its sequel, Final Fantasy X-2.
In Final Fantasy X, Yuna becomes a summoner like her father before her, and embarks on a pilgrimage to expel Sin, a monstrous creature that terrorizes the world of Spira. She meets Tidus who teaches her there is more to life than sacrifice.
In Final Fantasy X-2, Yuna is a sphere hunter on a personal quest to uncover the mystery behind a movie sphere, and becomes involved in rising political tensions and an ancient force that threaten to end Spira's Eternal Calm.
Appearance
Edit
In Final Fantasy X, Yuna wears an ensemble similar to, but widely varied from, those worn by Yevonites: a purple pleated, flower-patterned dress; black boots; a black spaghetti-string camisole under a white sash that wraps around her neck and over her chest; and a yellow patterned obi with a chōchō musubi knot and a decorative obidome to clinch the cords. Two separate, kimono-like sleeves complete the outfit.
Yuna has shoulder-length brunette hair. She wears a blue-beaded earring on her right ear, hidden by a lock of her hair, woven into blue beads with gold rings around the larger, middle bead. She wears a silver pendant. Yuna has heterochromia: her left eye is blue, while the right is green to represent her half-Al Bhed heritage, though without the characteristic spiral.
In Final Fantasy X-2, two years later, Yuna has undergone a transformation with a new revealing dress style and a more adventurous personality. Yuna retains her beaded earring and silver pendant, but her hair is cropped shorter, resembling Tidus's hairstyle, with a red braid stretching down to her ankles.
Yuna's attire changes for each of the dresspheres, with details that distinguish her from Rikku and Paine. Yuna's default appearance is the Gunner dressphere, an outfit given to her by Rikku in Final Fantasy X: Eternal Calm. She dons a modified halter-neck top with the symbol of the Zanarkand Abes across the chest and a pink hood. She wears yellow armbands over her biceps, a black bracelet on her left wrist, and denim boyshorts. She carries a pouch on her left hip over an ankle-length blue and white sash and wears laced knee-high boots. Wearing the Gunner dressphere in combat, she wields her signature Tiny Bee pistols.
In the other dresspheres Yuna wields her original summoning staves, the Nirvana, Tidus's Brotherhood and Caladbolg swords, a blue variant of Rikku's dagger blades, and Auron's Blurry Moon katana. Her deck theme for the Lady Luck dressphere is spades and her Mascot dressphere is a moogle. Her special dressphere is Floral Fallal whose appearance is designed after the hibiscus flower; yuna is the Japanese name of the Sea Hibiscus, the flower on her obi and her skirt in Final Fantasy X. In a bonus cutscene where the girls spend time in a hot spring in Mt. Gagazet, Yuna wears a pink and cream halter bikini swimsuit.
Personality
Edit
Yuna is a kind, loyal, honest, and polite humanitarian who strives to see the best in others and has a strong conviction to complete whatever task she feels is her duty. She is, however, naive, always believing the best of people, and often places the needs of others above her own, becoming apologetic when she feels she has let someone down.
Like most summoners, Yuna is a devout follower of Yevon's teachings. She hides her feelings of fear and sadness while encouraging her friends to express themselves in her place. She is willing to carry others' burdens and sacrifice everything she has to destroy Sin, giving up chances for her own happiness if it means helping others.
Her interactions with Tidus make her question Yevon's teachings, and she becomes more direct and open. When her faith in Yevon is shaken, Yuna must find her own path in life and pursue her goals without the backing of faith.
In Final Fantasy X-2 Yuna has a new lease on life. Though still unflinchingly polite, soft-spoken, and driven, she is now athletic, cosmopolitan, outspoken, and playful. Yuna has developed a go-getter attitude, willing to jump headfirst into danger, but also considers to resolve issues without resorting to violence. She has learned to think and desire for herself.
During her time with the Gullwings Rikku serves as a role model for Yuna, as she mimics some of Rikku's eccentric behaviors and uses some of her expressions, though others sometimes reprehend her for this. Yuna has gotten in touch with her Al Bhed heritage, learning the language. Though Yuna's friends tease her for always getting dragged into trouble and being a pushover as she cannot refuse a call for help, she can be stern and intimidating if angered. Yuna has developed a distaste for sacrifice in the name of victory and peace, a trait Tidus instilled in her. A number of changes in her personality have her resembling Tidus, including her looks, attitude, and combat style in certain dresspheres.

Final Fantasy XEdit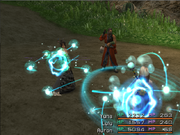 Yuna is a Summoner and White Mage. Her Strength, Defense and Accuracy are low, but she has high Magic, Magic Defense, Evasion, and Agility.
When using a counterattack, Yuna performs a regular attack on a ground-based fiend, and a forceful upper-left swing on flying fiends. When Yuna is low on HP she will slouch forward with her knees bent and hold her chest in pain. When she is at quarter HP left she will kneel on the ground.

Values in parentheses are node stat bonuses.
Abilities
Edit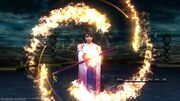 Yuna is the only party member who can summon aeons, and the only one with abilities outside the Sphere Grid. When summoned, an aeon replaces the current party in battle and can be controlled, having special attacks and an Overdrive of its own. With the Summoner's Soul and Aeon's Soul key items the player can teach aeons new abilities and raise their stat attributes at the expense of various items.
Yuna's default position on the Sphere Grid runs near Rikku's and Tidus's, and her representing color is white. Yuna has no Skill nodes and one Special Ability node. The "Nul" spells and Pray are both quick to cast, and act on the whole party. Within the Lv. Locks of Yuna's grid area are the following Wht Magic nodes:
Note: Abilities denoted with an asterisk (*) are available in the International, PAL, and HD Remaster versions of Final Fantasy X.
Sphere Grid
Edit
| Ability | Description | Ability | Description |
| --- | --- | --- | --- |
| Cure | Restores a little HP to a party member. | Esuna | Removes most status ailments. |
| NulBlaze | Negates one fire-elemental attack or spell. | NulShock | Negates one thunder-elemental attack or spell. |
| NulFrost | Negates one ice-elemental attack or spell. | NulTide | Negates one water-elemental attack or spell. |
| Life | Revives a fallen party member with 50% of their max HP. | Pray | Restores a small amount of HP to all allies (Actually Special, not Wht Magic). |
| Cura | Restores a moderate amount of HP to party member. | Shell | Increases party member's Magic Defense. |
| Protect | Increases party member's Defense. | Reflect | Reflects spells back at the caster. |
| Dispel | Removes positive status buffs. | Curaga | Restores a lot of HP to a party member. |
| Regen | Gradually restores HP each turn. | Holy | Deals massive holy-elemental damage to one enemy. |
| Auto-Life | Automatically revives fallen party member upon KO with 25% max health. | Quick Pockets* | Swiftly use items with reduced recovery time (normally in Standard Sphere Grid). |
Auto-Life is through the Level 4 Lock, making it unattainable at the beginning of the game.
Yuna's Overdrive is Grand Summon, which summons an aeon with a full Overdrive gauge. After the Overdrive is executed the gauge will return to its previous state.
Equipment
Edit
Yuna uses rods for weapons and rings for armor.

Final Fantasy X-2Edit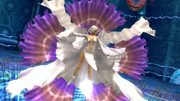 For the properties and abilities conferred by Yuna's dresspheres in Final Fantasy X-2, see the links in the Dresspheres gallery below.
Yuna has thirteen dresspheres, each acting as a job class with unique abilities. Yuna specializes in elemental and non-elemental magic.
In her Trainer dressphere, Yuna's pet is a dog called Kogoro that resembles aeon Yojimbo's dog. Her Mascot dressphere is a moogle, and her special dressphere is Floral Fallal, where she dresses as a large purple flower.
The girls all have different EXP totals and therefore progress at different rates. Yuna tends to lag behind, so she has the slowest level growth. However, in the International/PAL/HD Remaster versions, players can help mitigate Yuna's slow progress by having captured fiends fight alongside her to help her catch up with or get ahead of Rikku and Paine.
Dresspheres
Edit
Blitzball
Edit
In Chapter 5 of Final Fantasy X-2, the Besaid Aurochs are babysitting Wakka and Lulu's baby, Vidina, and allow the Gullwings to take their place in the tournament. Blitzball is available to play thereafter. Choosing 'Luca' from the airship's location menu drops Yuna off less than ten yards from the booth at the Luca Stadium Entrance, at which the player can select the option to play the game. Team improvement points, capped at 100, are acquired over time.




Stats

| Lv | Start | Max |
| --- | --- | --- |
| SP | 30 | 30 |
| EN | 3 | 41 |
| AT | 3 | 28 |
| PA | 4 | 84 |
| BL | 2 | 73 |
| SH | 2 | 42 |
| CA | 1 | 65 |
| RNG | 39 | 119 |
| REC | 45 | 154 |
| RCH | 50 | 50 |
Yuna Coin
Coin No.
57
Coin Value
9
Trait
Coin Count Echo
Location
Win from the Bevelle Core Sphere player in the Luca Stadium.
Creation and development
Edit
[1]
The original concept of Final Fantasy X story was that "a person would reach the end of life at 17 years of age". That theme of "inevitable death" was carried over to become Yuna's fate in Final Fantasy X.[2]
The developers wanted to depict a heroine who is not physically strong, but who has a strong will and determination.[1] In early development, character designer Tetsuya Nomura designed Yuna in a different outfit, but after learning Yuna would dance during the sending, he changed it to a furisode to have something that would "flow" as Yuna danced.[3]
When asked about Yuna's drastic wardrobe change in Final Fantasy X-2, Tetsu Tsukamoto, the game's alternate costume designer, replied, "From a planning standpoint, I would say that the differences are due to the changes in Spira between Final Fantasy X and Final Fantasy X-2. Final Fantasy X had more of a darker, religious feel, whereas in Final Fantasy X-2, there is a huge cultural change. I think those changes are reflected in the character designs."[4]
In Final Fantasy X-2, Yuna's change in personality is connected to her quest in finding a new role for herself since she is no longer burdened by a summoner's responsibilities. Through Rikku's influence, Yuna begins finding her new self. With her new clothes and attitude, Yuna can be seen as a different person, but inside, she is the same Yuna from Final Fantasy X. "It is her realization of a stronger and more confident woman inside herself that drives the story of Final Fantasy X-2."[5]
Yuna's Japanese voice actress is Mayuko Aoki and her English voice actress is Hedy Burress.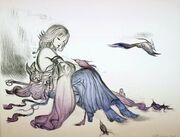 Because the game's cutscenes were programmed around the Japanese voice work, the localization team faced the difficulty of incorporating the translated script with the rhythm and timing of the characters' lip movements, and in fact almost all of it had to be rewritten to better match the animations. Once the voice recording was complete, sound editors would digitally speed up or slow down the audio clips to fill the character's allotted speaking time for each particular line, because the lengths of audio files were hardcoded.[6] The file constraints were not the only issue: The Japanese idea of dramatic writing is to speak slowly. This reflected in Yuna's cadence in some parts with long pauses between words. Some parts like this were covered by having the character ask themselves a question and then answer it, making the pause sound more natural.[6]
The head of localization, Alexander O. Smith, was the one to push for the change for Yuna's final words to Tidus in the Final Fantasy X ending from Arigatō (ありがとう?, lit. Thank you) to "I love you" despite resistance from the Japanese side of development. "I love you" had never appeared in a Final Fantasy game before because it's not something Japanese usually say, but Smith kept pushing for the change and it made it though to the localization.[6]
While voice acting as Yuna in Final Fantasy X, Hedy Burress tried to translate duty, respect, and honor while also trying to retain her gentleness and femininity because of her appearance, but found it dichotomial to balance the two. She considers her relation with Tidus to be "humanizing" as it balances Yuna between her duty to Spira and her emotional side. Hedy stated she tries to relate to the character she's portraying and joked she wasn't able to save the world so that part "escapes" from her portrayal of Yuna.[7]
In Final Fantasy X-2 HD Remaster, Yuna occasionally says lines in Japanese during battle. The lines were done by her English voice actress, Hedy Burress. This is because in the original Final Fantasy X-2: International + Last Mission Square got the English voice actresses to record the new English battle dialogue for the Festivalist and Psychic dresspheres, and recorded Japanese quotes one might hear any time during a battle. For Yuna these new battle quote are Zenkai de ikuyo—! (全開でいくよっ!?, lit. Let's give it our all!), Yūna, mairimasu (ユウナ、まいります!?, lit. Yuna's here), Oshimai (おしまい?, lit. And that's the end), and Kore de sayonara (これでさよなら?, lit. This is the end for you).
Yuna has the same Japanese voice actress as Seven from Final Fantasy Type-0 and Selphie from her Kingdom Hearts appearance.

Musical themes
Edit
Yuna has two themes attributed to her named "Yuna's Theme". The one from Final Fantasy X is a remix of "Suteki da ne", the theme of her romance with Tidus. The one from Final Fantasy X-2 is an entirely new composition and an upbeat, pop tune.
An arrangement of her theme from Final Fantasy X also appears in Dissidia 012 Final Fantasy as her world map theme.
Another theme associated with Yuna in Final Fantasy X-2 is "Yuna's Ballad". An album dedicated to Yuna and Tidus is Feel/Go Dream: Yuna & Tidus.

Other appearances
Edit
As a part of the Final Fantasy Go There campaign, Lightning can wear Yuna's summoner robes from Final Fantasy X along with her default staff and ring, called Spira's Summoner, and her Final Fantasy X-2 outfit with the Brotherhood sword, called sphere hunter. While in this garb, Lightning mimics Yuna's victory pose and the Final Fantasy X victory theme is played at the end. The garb contains the locked ability Elementa.
The garb was obtained by purchasing Final Fantasy X/X-2 HD Remaster on PlayStation 3 or Vita (JP), as Amazon.com pre-order bonus (NA), or in the first print copies of Final Fantasy X/X-2 HD Remaster (EU).
A concept CG render of Lightning wearing Yuna's outfit was shown during E3 2013 when Motomu Toriyama discussed various costume possibilities for her.
Yuna appeared as a recruitable character. She was of the Visitor race and had Summoner and Gunner as her main jobs. Her attacks were Pray and Tiny Bee and her abilities were Summon Valefor and Trigger Happy.
Yuna is a playable character and is one of the more seasoned Warriors of Cosmos, having fought in several cycles and recovered almost all her memories of home. Traveling alongside Jecht, Yuna runs across Tidus who has lost his memories and been summoned as a Warrior of Chaos by the Emperor to defeat Jecht.
Yuna pursues Tidus to try and awaken his memories of them, but the Emperor attacks her. Tidus intercepts the blow, and Yuna battles the Emperor. In the aftermath the two find Jecht and Tidus collapsed, and the Emperor spirits Jecht's body away while Tidus is taken to safety. Yuna later accompanies the surviving Warriors of Cosmos to the Lands of Discord where they sacrifice themselves sealing the portal the manikins are emerging from.
Yuna's first alternate outfit is based on Yoshitaka Amano's artwork of her, removing the floral pattern from her skirt and giving her a lighter color scheme. Her second alternate outfit is her bridal gown from her wedding to Seymour. Yuna's outfit available as downloadable content is her Gunner appearance from Final Fantasy X-2.

Cloud:

I couldn't finish 'em. Looks like this's gonna get complicated.

The following tables are incomplete for one or more reasons. If you wish, please examine the table and add anything missing. Remove this notice upon completion.
Yuna iis unlocked by collecting Turquoise Shards.
She is a Support oriented character.
Stats
| Level | HP | CP | Strength | Magic | Agility | Luck |
| --- | --- | --- | --- | --- | --- | --- |
| 1 | 233 | 8 | 7 | 21 | 13 | 13 |
| 10 | 929 | 14 | 16 | 48 | 31 | 30 |
| 20 | 1,702 | 20 | 25 | 77 | 50 | 49 |
| 99 | 6,187 | 50 | 82 | 251 | 161 | 160 |
iOS Stats
Yuna returns as a playable character, and is one of the few characters that have a second variation. Her first version is her Summoner garb from Final Fantasy X, now unlocked by collecting Peach Crystal Shards. Her second version is the main representative of Final Fantasy X-2, donning her Gunner dressphere, and is available from the start by transferring save data from the second demo of Curtain Call. If the player did not select her among their party of four, or download the demo, she can later be unlocked by collecting Indigo Crystal Shards.
Her first variation is Support and Defense oriented, while her second version is Spell oriented. The former gains a Limit Break, The Sending, and deals damage in proportion to her Magic and Spirit, while the latter's Limit, Trigger Happy deals damage in proportion to her Strength, Agility and Luck.
| Level | CP | HP | Strength | Magic | Agility | Luck | Stamina | Spirit |
| --- | --- | --- | --- | --- | --- | --- | --- | --- |
| 1 | 8 | 209 | 6 | 17 | 8 | 12 | 8 | 20 |
| 50 | 41 | 3888 | 49 | 145 | 66 | 98 | 66 | 172 |
| 99 | 50 | 5554 | 69 | 204 | 93 | 138 | 93 | 243 |
Abilities
| Level | CP | HP | Strength | Magic | Agility | Luck | Stamina | Spirit |
| --- | --- | --- | --- | --- | --- | --- | --- | --- |
| 1 | 10 | 229 | 6 | 20 | 10 | 11 | 10 | 20 |
| 50 | 41 | 4032 | 45 | 163 | 79 | 92 | 79 | 158 |
| 99 | 50 | 6086 | 67 | 241 | 118 | 136 | 117 | 234 |
Abilities
Yuna appears as a playable character.
Yuna is an ally and a summonable Legend. She is depicted in her Final Fantasy X and default Final Fantasy X-2 outfits, a furisode, a maid outfit, a shrine maiden outfit and her wedding dress. Her abilities are Heavenly Strike and Megaflare. Her EX abilities are Magus Sisters (Delta Attack), Summon Valefor, Burst Shot, Potshot, Sonic Wings, Scattershot, Summon Anima, Flare Whirl, Grand Summon (Energy Blast), Sending, Charge & Assault and Grand Summon (Megaflare).
She was first introduced as an event ally during the coinciding events, Final Fantasy Special Event Parts 1 & 2 - Shattered World and Final Fantasy Special Event Parts 1 & 2 - Showdown, in which she was unlocked automatically as a bonus character. Leveling her up to 99 in these events and claiming an SSR ticket yielded her individualized SSR weapon, Yuna's Staff. In battle, Yuna is armed with her staff and uses the ability Heavenly Strike.
Yuna is an exclusive character available from the Premium Character Shop as a random downloadable content. She summons Valefor during battle.
Yuna appears as an optional character. She could be recruited first via the Marriage of Convenience, Into the Bevelle Palace Challenge Event.
Yuna won the 2016 Final Fantasy Record Keeper Valentine's Day social media poll. Players received a Yuna's Obi (X) accessory and three Mythril stones for making her their Valentine sweetheart. Her picture, of her Sending at Kilika, was the game's title splash for the week of February 14-22, 2016.
Assessment
Yuna's story role is Summoner and her combat role is Healing Magic.
Yuna is one of the strongest mages. The player can make of Yuna a healer and a buffer if not a Summoner outright, summon abilities being at least moderately difficult to create or hone and with fewer charges than other ability types. High Magic scores allow attack summons to hit with greater force. This does not, however, seem to help her companion summon, Valefor, much.
Stats
Level
HP
Attack
Defense
Magic
Resistance
Mind
Accuracy
Evasion
Speed
1
180
6
6
11
10
11
20
20
92
10
700
13
15
35
31
35
20
20
96
20
1,279
21
26
57
51
57
20
20
101
30
1,857
31
37
78
70
78
21
21
106
40
2,436
40
48
97
87
97
21
21
112
50
3,015
51
59
116
104
116
22
22
118
60
3,593
61
69
134
120
134
23
23
124
65
3,883
67
75
143
128
143
23
23
127
70
4,172
72
80
152
136
152
23
23
130
80
4,750
83
91
169
152
169
24
24
136
Rank

Max: 5

3
1
1
5
4
5
3
3
3
Abilities
Yuna can use White Magic spells up to rarity rank 5, Summoning spells up to rarity rank 5, and Support abilities up to rarity rank 3.
Her default Soul Break is Grand Summon I, which at the expense of a Soul Gauge segment summons Valefor to deal non-elemental damage to all enemies equal to 110% damage potency of a conventional black magic spell. The rod Magistral Rod (X) allows Yuna to access The Sending, which at the expense of one Soul Gauge segment deals magic holy damage to all targets equal to 717% damage potency of a conventional damage spell, primary stat being Mind. The rod Lullaby Rod (X) allows Yuna to access Hymn of the Fayth, which at the expense of one Soul Gauge segment restores HP to all allies equal to 50% healing potency of a conventional healing spell and grants them strong Regen.
Equipment
Yuna can equip the following weapon types: daggers, staffs, and rods. The rods Magistral Rod (X) and Lullaby Rod (X) allows Yuna to use The Sending and Hymn of the Fayth, respectively.
She can equip the following armor types: hats, robes, and bracers.
She can equip accessories.
Yuna appears wearing her Gunner dressphere from Final Fantasy X-2.
Yuna appears as a Rarity 3 Support-type Ability Card. Its ability is the Hymn of the Fayth, which costs two Recovery elements to recover the user's HP.

Yuna is represented in numerous cards, most of the Aqua element (two being Promotional) and few of the Shine element.
In her regular cards, she is depicted in her Final Fantasy X promotional poster art, official Final Fantasy X artworks, Final Fantasy X-2 Songstress promotional poster and in her Final Fantasy X-2 artwork and render. Her Shine cards depict her in her Dissidia artwork and in a screenshot from the FMV of Kilika's sending. Her promotional cards depicts her in the Final Fantasy X-2 YRP promotional poster and her Dissidia 012 Final Fantasy promotional render.
She also appears in a card for Valefor.
Yuna appears on Triple Triad cards in the version playable via Final Fantasy Portal App.
Non-Final Fantasy guest appearancesEdit
Yuna appears in Kingdom Hearts II along with Paine and Rikku wearing her costume from Final Fantasy X-2. The Gullwings are diminutive in stature and depicted as pixies. They are allied with Maleficent and spy on Sora, but are not loyal to her and the Gullwings as a whole seem out of the loop and never know where Maleficent is.
After Donald mentions Leon has treasure, the Gullwings change sides and help Leon defend Hollow Bastion. They later confront Sora, Donald, and Goofy in their lie, but having been told of his battle with Organization XIII, they let it slide and give him the Gullwing Keychain for his Keyblade. During the ending, Yuna, Paine, and Rikku are at the Hollow Bastion hideout stealing Yuffie's sea salt ice cream and being chased around.
Yuna makes an appearance in Kingdom Hearts χ [chi] as one of the obtainable character cards.
Itadaki StreetEdit
Yuna is a playable character in the Dragon Quest & Final Fantasy in Itadaki Street Special edition of the Monopoly-like video game available only in Japan in a chibi version of her Final Fantasy X appearance, alongside Tidus and Auron, and a chibi version of her Final Fantasy X-2 appearance, alongside Rikku and Paine.
Million ArthurEdit
A Yuna-inspired card was released in the mobile card game Million Arthur as part of the Final Fantasy Go There campaign.
Square Enix Legend WorldEdit
Yuna from Final Fantasy X and Final Fantasy X-2 makes an appearance as a card.
Puzzle & DragonsEdit
Yuna and her staff appeared in Puzzle & Dragons as part of the Final Fantasy collaboration. The collaboration event happened in the North American version of the game from November 2, 2015 to November 15, 2015.
Other media
Edit
InHanjuku Hero 4: 7-Jin no Hanjuku Hero, a parody of Yuna appears in this Square Enix game from the Hanjuku Hero series. She is identical to Yuna's Gunner design but has blonde hair, brown eyes, and white paint below her eyes.
In Gunslinger Stratos 2, a costume based on Yuna was released in November 2014.
Yuna's character model was used in the development of Final Fantasy XIII before the actual characters were finished.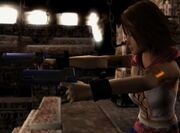 For more information, see Dead Fantasy Wiki: Yuna.
Yuna is a primary character in the fan-made Dead Fantasy series, being the first character to appear. She fights alongside Rikku, Tifa, Rinoa, Kairi, and Cloud against certain characters from Dead or Alive; her main opponent is Kasumi.
Throughout Dead Fantasy I she is chased by Kasumi and Ayane in ancient ruins. When Ayane is about to take Yuna down, Rikku arrives to save her. As they overpower Kasumi and Ayane, Hitomi joins the fray until Tifa arrives to turn the tide of the battle. Throughout Dead Fantasy II Yuna fights Kasumi, and the fight ends with Yuna knocking Kasumi into the conjure portal that Rinoa had created, which leads them to fight in Dead Fantasy IV, where Yuna and Kasumi battle on the flower fields reminiscent of Final Fantasy VIII. One of the Kasumi Alpha clones interrupts their match forcing Yuna to sphere change into her summoner form and summon her aeons as Kasumi aids Yuna fight her antagonistic clones. The aeons are defeated and Yuna reverts. Cloud saves her and blasts the clones with his Limit Break. Kasumi promises to deal the clones and Yuna rides away with Cloud on his motorcycle to search for Tifa.
Yuna is last seen with Cloud in Dead Fantasy V, where they spot a helicopter passing through a city. In Dead Fantasy IX, Yuna and Cloud were planned to team up to infiltrate DOATEC to save Tifa, but since Monty's death, the series ended up in a permanent hiatus.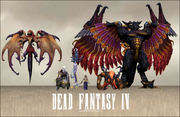 Yuna does not have her long ponytail and her sash when in her Gunner dressphere, and she has wristbands on both wrists opposed to just the left one. In her summoner outfit she wears arm warmers. Yuna's fighting style is a Gunner mixed with self-defense techniques, and her hand-to-hand combat style is based on Self-Taught, which is Lili's fighting style in the Tekken series. Three of her moves are demonstrated in Dead Fantasy II: Heavy Languish, Femme Fatale and Divine Step. She carries an X-Potion and Turbo Ether during Dead Fantasy II. In her Summoner form during the events in Dead Fantasy IV, she relies on her aeons and the way she summons is based on her appearance in Final Fantasy X.
Her grunts are from Jun Kazama from Tekken 2 up to Tekken Tag Tournament, voiced by her Japanese voice actress, Shiho Kikuchi.
Yuna has also appeared in the Dead Fantasy - Gee music video in her Songstress dressphere where she plays the role of the leader of Girls Generation, Kim Taeyeon.

Merchandise
Edit
Yuna has three action figures in the Final Fantasy Play Arts Action Figures series: two from her appearance in Final Fantasy X (a new figure was released to commemorate the HD release), and one from her appearance in Final Fantasy X-2. Yuna in both her Final Fantasy X summoner outfit, and her Final Fantasy X-2 Gunner dressphere, appears in Final Fantasy Trading Arts Kai Mini series of figures.
Yuna has a figure in the Final Fantasy X 1/6 Scale Figure Collection wearing her regular summoner outfit from Final Fantasy X; a prepainted set of 1/6 scale PVC figures was made by Kotobukiya in 2001. Final Fantasy X Yuna Wedding Cold Cast is a limited edition statue of Yuna in her wedding gown. Yuna also has a Coca-Cola bottle cap figure released as part of a marketing campaign in Japan.
For Final Fantasy X-2, Yuna's Tiny Bee guns have been released as merchandise in the form of a controller for the PlayStation 2 console. The Final Fantasy X-2 "Yuna" Zippo lighter represents the Gullwings with the wing of a seagull embossed on the lighter. The Final Fantasy X-2 Minimum Collection set includes miniature figures of the YRP.
A 1/6 scale PVC statue of Yuna in her Gunner dressphere setup was produced by ArtFX of Kotubukiya. Yuna's special dressphere, Floral Fallal, was released as Final Fantasy Creatures Fan Book Vol 2 figure. Two official phone straps of Yuna for Final Fantasy X-2 were also released: one of Yuna in her Gunner dressphere, and another of her as a Songstress. Yuna's silver necklace from Final Fantasy X-2 has also been released as merchandise.
Miscellaneous
Edit
Etymology and symbolism
Edit
[view · edit · purge]Yuuna is the Okinawan word for Sea Hibiscus. This flower is on her obi and her skirt. In Final Fantasy X-2, her special dressphere Floral Fallal represents a hibiscus as well.
Yuna's and Tidus's characters may allude to the Chinese concept of the Yin and Yang. Their placement in
this promotional artwork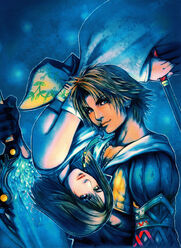 might also refer to it. In Chinese philosophy,
yin and yang
are concepts used to describe how apparently opposite or contrary forces are actually complementary, interconnected, and interdependent giving rise to each other as they interrelate. Many tangible dualities (such as light and dark, fire and water, and male and female) are thought of as physical manifestations of the duality of yin and yang. This duality lies at the origins of many branches of classical Chinese science and philosophy, as well as being a primary guideline of traditional Chinese medicine, and a central principle of different forms of Chinese martial arts and exercise.
Yin is the negative/passive/female principle in nature, and may allude to many other concepts e.g. the moon, shaded orientation, something covert or concealed, "of the netherworld", overcast or sinister.
Yang is the positive/active/male principle in nature, and may allude to many other concepts e.g. the sun, open, overt, and "belonging to this world".
Yuna is one of the few Final Fantasy characters who are mixed-race, along with Cecil Harvey, Golbez, Terra Branford, Aerith Gainsborough and Seymour Guado.
During the opening mission in Final Fantasy X-2, the player can find an oversized moogle hiding among the crates in Luca's docks, who is Yuna in disguise. Approaching her is necessary for 100% completion.
As demonstrated by her ability to play blitzball, Yuna can hold her breath for at least five minutes. However, in the Eternal Calm scene, she claims her record is 2 minutes and 41 seconds.
Yuna professes her love for Tidus just before he disappears in the English version of Final Fantasy X. In the Japanese version, she formally thanks him.
Dissidia 012 Final Fantasy is the only game in which Yuna says the names of Tidus and her aeons, due to the option to change their names in Final Fantasy X.
It is never specified if Yuna had singing talent in Final Fantasy X-2, as she always sang while wearing the Songstress dressphere, implying that she could have obtained it from Lenne.
After the battle with Biran and Yenke on Mt. Gagazet, they say they will make a statue of Yuna with a "grand horn on its head", possibly a reference to summoners in past Final Fantasy games who are often seen with horns on their heads.
In the background of Yuna's Final Fantasy X-2 promotional poster

, the words "Yuna Live" are written in Spiran script.
Tidus and Yuna won first place in Game Informer magazine's "Best Couple of the Year" feature in its February 2009 issue.
External links
Edit
References
Edit