Yoshinori Kitase
Talk

0
17,017 pages on
this wiki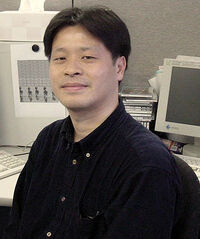 Yoshinori Kitase (北瀬 佳範, Kitase Yoshinori?) is a game producer and former game director who has been working for Square Enix since 1990. He has directed several Final Fantasy games, with his debut being Final Fantasy VI (1994). He became a producer after Hironobu Sakaguchi promoted him to the position. He made his debut as a producer with Final Fantasy X (2001).
Kitase graduated in cinema at the Nihon University College of Art. In 1990, he was hired by Square, even though he didn't have any computer knowledge. He was the director of Final Fantasy VI (1994), Final Fantasy VII (1997) and Final Fantasy VIII (1999). As he puts it, his role was that of an "event scripter". He would direct the characters' expressions and movements, the settings and the timing of music transitions, much like a stage director.
Hironobu Sakaguchi, the Final Fantasy series' creator, chose Kitase to be producer of the mainline Final Fantasy games developed by Product Development Division 1. In this new position, Kitase would then choose Motomu Toriyama as his successor as director, and produce Final Fantasy X (2001), Final Fantasy X-2 (2003), Final Fantasy XIII (2009), Final Fantasy XIII-2 (2011), and Lightning Returns: Final Fantasy XIII (2013), all of which Toriyama directed.
Kitase is currently producing his first smartphone game called Mevius Final Fantasy (2015).
Works Within the Series
Edit
| Game | Release | Work |
| --- | --- | --- |
| Final Fantasy Adventure | 1991 | Game Design, Scenario Writer |
| Final Fantasy V | 1992 | Event Planner |
| Final Fantasy VI | 1994 | Director (with Hiroyuki Ito), Event Planner |
| Final Fantasy VII | 1997 | Director, Scenario Writer (with Kazushige Nojima) |
| Final Fantasy VIII | 1999 | Director, Game Design, Base Story |
| Final Fantasy X | 2001 | Producer, Game Design, Base Story |
| Final Fantasy X-2 | 2003 | Producer, Base Story (with Motomu Toriyama) |
| Before Crisis -Final Fantasy VII- | 2004 | Producer |
| Final Fantasy VII Tech Demo | 2005 | Supervisor |
| Final Fantasy VII: Advent Children | 2005 | Producer (with Shinji Hashimoto) |
| Dirge of Cerberus -Final Fantasy VII- | 2006 | Producer, Original Concept |
| Final Fantasy V Advance | 2006 | Supervisor (with Hiroyuki Ito) |
| Final Fantasy VI Advance | 2006 | Supervisor (with Hiroyuki Ito) |
| Crisis Core -Final Fantasy VII- | 2007 | Executive Producer, Game Design, Event Planner |
| Dissidia Final Fantasy | 2008 | Producer |
| Final Fantasy VII: Advent Children Complete | 2009 | Producer (with Shinji Hashimoto and Ichiro Hazama) |
| Final Fantasy XIII | 2009 | Producer, Game Design, Story Supervisor, Crystal Tools Development Staff |
| Final Fantasy XIV | 2010 | Crystal Tools Development Staff |
| Dissidia 012 Final Fantasy | 2011 | Special Thanks |
| Final Fantasy Type-0 | 2011 | Producer |
| Final Fantasy XIII-2 | 2011 | Producer, Story Supervisor |
| Theatrhythm Final Fantasy | 2012 | Special Thanks |
| Final Fantasy All the Bravest | 2013 | Special Thanks |
| Lightning Returns: Final Fantasy XIII | 2013 | Producer, Story Supervisor |
| Final Fantasy X/X-2 HD Remaster | 2013 | Producer |
| Theatrhythm Final Fantasy: Curtain Call | 2014 | Special Thanks |
| Final Fantasy VII G-Bike | 2014 | Executive Producer |
| Mevius Final Fantasy | 2015 | Producer |
External Links
Edit
References
Edit