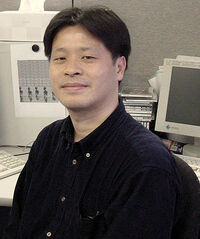 Yoshinori Kitase (北瀬 佳範, Kitase Yoshinori?) is a Japanese game director and game producer working for Square Enix. He has directed three Final Fantasy games: Final Fantasy VI, Final Fantasy VII, and Final Fantasy VIII.
He became a producer after Hironobu Sakaguchi promoted him to the position. He made his debut as a producer with Final Fantasy X. Since then, he has produced Final Fantasy X-2, the Compilation of Final Fantasy VII, the Final Fantasy XIII trilogy, Final Fantasy X/X-2 HD Remaster, Mobius Final Fantasy and the forthcoming Final Fantasy VII Remake.
He is the head of Square Enix's Business Division 1[1] and part of the Final Fantasy Committee.[2]
Kitase graduated in cinema at the Nihon University College of Art. In 1990, he was hired by Square, even though he didn't have any computer knowledge. His role was that of an "event scripter"; he would direct the characters' expressions and movements, the settings and the timing of music transitions, much like a stage director.
Hironobu Sakaguchi, creator of the Final Fantasy series, chose Kitase to be producer of the mainline Final Fantasy games developed by Product Development Division 1. Kitase chose Motomu Toriyama as his successor as director.
He is currently working as producer on the Final Fantasy VII Remake series, with the project being directed by Tetsuya Nomura, the director of Final Fantasy VII: Advent Children.
Works within the series
Edit
In-game appearances
Edit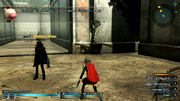 Yoshinori Kitase appears as a Support Personnel of Akademeia. He shares the character model with Machina Kunagiri. His code name is "Producer".

Kitase has stated that his favorite game in the series is Final Fantasy VII and his favorite character is Cloud Strife.[4]
Tetsuya Nomura stated he considers Yoshinori Kitase one of his four "seniors", and an influence on his game direction.[5]
External links
Edit
References
Edit