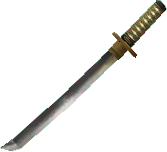 Yoshimitsu (吉光, Yoshimitsu?) is a recurring weapon in the series.
Appearances
Edit
Non-Final Fantasy guest appearancesEdit
The Final Fantasy XIV incarnation of Yoshimitsu appears as a weapon in the game as part of collaboration agreement between Square Enix and Sega.
Etymology
Edit
Yoshimitsu was once a smith of Awataguchi, and lived in the Golden Era of koto katana in the Kamakura Era. Along with Masamune, Yoshimitsu is one of the three historically renowned swordsmiths of Japan. Though his career rarely saw him create swords, he was widely celebrated for his skill at making tanto and daggers, which is why a majority of his weapons are often portrayed as ninja blades.
Ad blocker interference detected!
Wikia is a free-to-use site that makes money from advertising. We have a modified experience for viewers using ad blockers

Wikia is not accessible if you've made further modifications. Remove the custom ad blocker rule(s) and the page will load as expected.