Yojimbo (Summon)
Talk

32
15,966 pages on
this wiki
"I am the blade of vengeance. They dare only whisper my name: Yojimbo."
—Yojimbo, Final Fantasy X
Yojimbo (用心棒, Yōjinbō?) is a recurring aeon in the Final Fantasy series, first appearing in Final Fantasy X.
Appearances
Edit
Yojimbo is acquired by visiting the Cavern of the Stolen Fayth, where the player must hire him to become Yuna's aeon. Yojimbo acts as a sword-for-hire and has four different attacks, depending on how much the player pays him as well as a complex mathematical formula based on his worker-employer relationship with Yuna and several other factors. Yojimbo functions similarly to Odin and Gilgamesh from previous Final Fantasy games. His most powerful attack, Zanmato, is able to instantly kill fiends and bosses.
With a wave of the summoner's staff, a night-time dimension forms, featuring a single sakura tree in bloom, with blue flowers. A bark is heard, and Yojimbo's dog, Daigoro, appears first to greet the summoner. Yojimbo slowly walks out from behind the tree, then turns with a sweep of his coat and calls upon his dog to start the battle. When Yojimbo is summoned into battle, the sound effect is the same as what was used in Final Fantasy VIII as the magic spell effect.
Acquiring
Edit
Yojimbo can be recruited at the Cavern of the Stolen Fayth near the entrance to Mt. Gagazet. Yojimbo will initially ask the player for hundreds of thousands of gil to be hired, but it is possible to haggle with him. In order to get Yojimbo for a cheaper price, the player must offer him half the initial gil he is asking for plus one gil, and he will change his price.
One can continue increasing the price by one gil until he agrees to it. If the player then pays Yojimbo triple what he is asking, he will give two Teleport Spheres as a token of his appreciation. This will still work after having "haggled" with him.
Obtaining Yojimbo in the Final Fantasy X HD Remaster version earns the It's All About The Money trophy.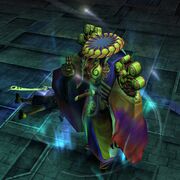 See the Summon and Overdrive sequences here.
The player must pay Yojimbo gil every time they want him to attack. How much one pays him influences what he uses to attack. The highest chance of using Zanmato occurs with a payment of at least 536,870,912 Gil.
There is also a hidden compatibility value that influences what attack Yojimbo will use. It decreases if Yojimbo uses Daigoro, is paid 0 Gil, is KO'd, or is dismissed with the Dismiss command immediately after being summoned and increases if Yojimbo uses Wakizashi or Zanmato. Another factor in deciding whether Yojimbo uses Zanmato is the enemy's Zanmato Level; the higher the Zanmato Level, the less likely Zanmato will be used.
Yojimbo has no Overdrive, but if his Overdrive meter is full, the chance of him performing his stronger attacks increases. The chance of Yojimbo using his stronger moves is much higher in the International/PAL versions of Final Fantasy X.
Yojimbo can exceed maximum damage once Auron obtains and charges his Celestial Weapon, the Masamune.
Main article: Yojimbo (Final Fantasy X Boss)
In the International and HD Remaster versions of Final Fantasy X, the players can fight Dark Yojimbo in the Cavern of the Stolen Fayth after having acquired the airship.
Yojimbo's basic stats, and he doesn't have any default abilities. The player cannot make him learn any either.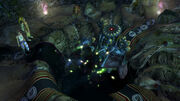 Yojimbo reappears in Final Fantasy X-2, possessed by Shuyin. The Gullwings must fight him in order to save some tourists visiting The Cavern of the Stolen Fayth in the Chapter 3 Tourist Trap mission.
A shīsā called Kogoro, which physically resembles Daigoro, appears in Final Fantasy X-2 as part of Yuna's Trainer dressphere.

Yojimbo appears as a recruitable character in Final Fantasy Tactics S.
Yojimbo's Final Fantasy Airborne Brigade appearance has a card in Final Fantasy Trading Card Game.

"Soul of the fayth concealed beneath a ravine, this aeon strikes and slashes in service of he who has the most gil."
—Description
Merchandise
Edit
A figure of Yojimbo was made for the Final Fantasy X Action Figure Collection by ArtFX. Listed as No.2 in the series, the Yojimbo figure comes complete with Zanmato and Wakizashi swords, Kozuka throwing knife and Daigoro, as well as a mountable stand for display. A later version of "Dark Aeon Yojimbo" was released using the same figure mold and accessories, as Final Fantasy X-2 merchandise.
A figure of Yojimbo was also made for the Final Fantasy Master Creatures second set, featuring him slashing with Zanmato as Daigoro is pouncing.
Etymology
Edit
When Yuna visits Yojimbo's fayth to hire him as an aeon, he calls himself Yojimbo. Despite this, the player can still rename him. "Yojimbo" means "bodyguard" in Japanese. The Kanji (Japanese characters) can also mean "sword/service for hire", befitting his pay-off system.
If the player revisits Yojimbo the fayth reassures Tidus that he will never be forgotten.
When Yuna prays to Yojimbo's fayth in Final Fantasy X, ribbons are briefly shown binding it, which say "SEAL" in Yevon script.
External Links
Edit
Look here for a simplified, easy-to-understand mathematical description of Yojimbo and his attacks.
Look here for a more complex, harder to understand, but much more detailed mathematical description of Yojimbo and his attacks (this includes calculations for PAL/International versions of the game as well, along with probability (Percentile) tables for all versions).