Yellow Jelly (イエローゼリー, Ierō Zerī?), also known as Jelly and Cream, is a recurring enemy in the series since its debut in Final Fantasy II.
Appearances
Edit
Yellow Jelly can be encountered at Tropical Island and Cave of Mysidia. These monsters are heavily resistant to physical attacks and Lightning-elemental attacks, but weak to Fire-elemental and Ice-elemental attacks. Their physical attacks may inflict Poison.

Yellow Jelly is fought at Antlion's Den, possessing a weakness to Lightning-elemental attacks and fighting using a regular attack.
Yellow Jelly returns as an enemy fought throughout the various Tales in the game, though appearing the most during Rydia's tale. It is identical to its previous incarnation.
Yellow Jelly is an enemy fought at Castle Liene and Mt. Verde, possessing immunity to all physical attacks but a crippling weakness to Lightning-elemental attacks.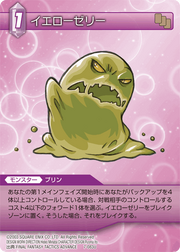 Ad blocker interference detected!
Wikia is a free-to-use site that makes money from advertising. We have a modified experience for viewers using ad blockers

Wikia is not accessible if you've made further modifications. Remove the custom ad blocker rule(s) and the page will load as expected.