The Yellow Dragon, also known as the Yellow D or Y.Dragon, is an enemy in Final Fantasy IV. It is extremely rare, and as such, drops a variety of rare items, including valuable Sirens that can be used to search for other elusive monsters. The player can find two of these monsters using a Siren on the fourth floor in the Cave of Trials.
AI script
Edit
Condition: [Monster's own state is "Ran"]
1 turn: [Attack target setting: Monster yourself]

Futsumi

Condition: [Only the group of the monster himself exists]
1 turn: Cover
2 turns: fight
Condition: [Normal time]
1 turn: fight
Other appearances
Edit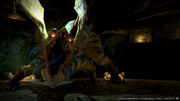 Yellow Dragon is set to appear as a boss, and was featured during the Limit Break Trailer. Much of the trailer takes place in the revamped Tam-Tara Deepcroft.
The dragon Svara is based on the Yellow Dragon.


Yellow Dragon from Final Fantasy IV appears as an enemy in Final Fantasy Record Keeper.

Etymology
Edit
[view · edit · purge]A dragon is a legendary creature, typically with serpentine or reptilian traits, that features in the myths of many cultures.
Related enemies
Edit