Yellow D
イエロードラゴン (Ierōdoragon?)
Statistics
Level
HP
MP
40
3,100
193
Attack
Magic
108
0
Defense
Mag Def
Mag Def%
4
37
0
Agil.
Attack%
Defense%
?
?
99%
EXP
GP
28,000
1,500
Y.Dragon
イエロードラゴン (Ierōdoragon?)
Statistics
Level
HP
MP
40
3,100
193
Attack
Magic
108
0
Defense
Mag Def
Mag Def%
4
37
0
Agil.
Attack%
Defense%
?
?
99%
EXP
Gil
28,000
1,500
Yellow D
イエロードラゴン (Ierōdoragon?)
Statistics
Level
HP
MP
40
3,100
193
Attack
Magic
108
0
Defense
Mag Def
Mag Def%
4
37
0
Agil.
Attack%
Defense%
?
?
99%
EXP
Gil
28,000
1,500
Yellow Dragon
イエロードラゴン (Ierōdoragon?)
Statistics
Level
HP
MP
40
3,100
193
Strength
Magic
108
0
Defense
Mag. Def.

Magic Defense

Mag. Eva.

Magic Evasion

4
37
0
Agility
Precision
Evasion
?
?
99%
EXP
Gil
28,000
1,500
Yellow Dragon
イエロードラゴン (Ierōdoragon?)

Statistics
Level
HP
MP
40
3,100
193
Strength
Magic
108
0
Defense
Mag. Def.

Magic Defense

Mag. Eva.

Magic Evasion

4
37
0
Speed
Accuracy
Evasion
?
?
99%
EXP
Gil
28,000
1,500
Yellow Dragon
イエロードラゴン (Ierōdoragon?)

Statistics
Level
HP
58
18,889
EXP
Gil
75,952
958
Strength
Stamina
Speed
47
52
46
Intellect
Spirit
Attack
Accuracy
41
58
35
115
Evasion
Defense
Mag. Def.

Magic Defense

Mag. Eva.

Magic Evasion

5
98
50
5
Elemental affinities
100%
100%
-100%

Absorbs

100%
100%
100%
100%
100%
Restorative
Drain/Osmose
-100%

Absorbs

100%

Damages, supplies to the caster
Statuses and immunities
Immune
Immune
Immune
Immune
Immune
Death
Immune
Immune
Immune
Immune
Immune
Critical
Immune
-
Immune
Immune
Immune
Libra/Analyze
Immune
-
Immune
-
The Yellow Dragon, also known as the Yellow D or Y.Dragon, is an enemy in Final Fantasy IV. It is extremely rare, and as such, drops a variety of rare items, including valuable Sirens that can be used to search for other elusive monsters. The player can find two of these monsters using a Siren on the fourth floor in the Cave of Trials.
AI script
Edit
This article or section is a stub about an enemy in Final Fantasy IV. You can help the Final Fantasy Wiki by expanding it.
Other appearances
Edit

Yellow Dragon from Final Fantasy IV appears as an enemy in Final Fantasy Record Keeper.

Etymology
Edit
[view · edit · purge]A dragon is a legendary creature, typically with serpentine or reptilian traits, that features in the myths of many cultures.
Related enemies
Edit
Other appearances
Edit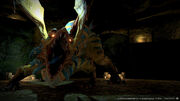 Yellow Dragon is set to appear as a boss, and was featured during the Limit Break Trailer. Much of the trailer takes place in the revamped Tam-Tara Deepcroft.
The dragon Svara is based on the Yellow Dragon.

Ad blocker interference detected!
Wikia is a free-to-use site that makes money from advertising. We have a modified experience for viewers using ad blockers

Wikia is not accessible if you've made further modifications. Remove the custom ad blocker rule(s) and the page will load as expected.