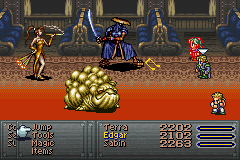 Yawn (あくび, Akubi?) is a recurring enemy ability in the Final Fantasy series. It typically puts targets to Sleep.
Appearances
Edit
VI Yawn is an enemy ability used by Suriander and Wartpuck. It inflicts Sleep on the target.
Yawn is a Blue Magic spell. It can be learned from some Apkallu at level 58 or above. When cast, the spell puts all enemies in the area of effect to sleep.

This article or section is a stub about an ability in World of Final Fantasy. You can help the Final Fantasy Wiki by expanding it.
Etymology
Edit
A yawn is a reflex consisting of the simultaneous inhalation of air and the stretching of the eardrums, followed by an exhalation of breath.
Recurring enemy abilities