YSLS-Zero
20,095 pages on
this wiki
Talk

0
Final Fantasy X-2 Boss
YSLS-Zero
ゼロ式機士 (Zero Shikikiji)
Defender
Statistics
Level
HP
MP
11
1935
0
Strength
Magic
Defense
74
104
0
M. Defense
Agility
Accuracy
3
62
2
Evasion
Luck
0
0
EXP
AP
Gil
350
1
100
Location
Kilika Temple
Bevelle Underground
Via Infinito Floors 10 - 12
Chapters
1, 2, 5
Common Steal
Mythril Gloves
Rare Steal
Mythril Gloves, Defense Veil
Gil Steal
1400
Common Drop
Wristband
Rare Drop
Wristband, Stamina Tablet
Common Bribe
None
Rare Bribe
None
Abilities
Blast Punch, Haymaker
Blue Bullet
None
Status Resist
None
Status Immunity
Death, Petrification, Sleep, Silence, Poison, Confusion, Berserk, Curse, Stop, Doom, Delay, Preparation Interruption, Multiple Damage
Other Information
N/A
YSLS-Zero
ゼロ式機士 (Zero Shikikiji)
Defender
Statistics
Level
HP
MP
13
4831
0
Strength
Magic
Defense
74
104
0
M. Defense
Agility
Accuracy
3
74
3
Evasion
Luck
0
0
EXP
AP
Gil
610
2
1200
Location
Kilika Temple
Bevelle Underground
Via Infinito Floors 10 - 12
Chapters
1, 2, 5
Common Steal
Diamond Gloves
Rare Steal
Diamond Gloves
Gil Steal
3000
Common Drop
Hyper Wrist
Rare Drop
Hyper Wrist
Common Bribe
None
Rare Bribe
None
Abilities
Bio Mode, Bio Punch, Blast Punch, Haymaker, OFF Mode, Silence Mode, Silence Punch
Blue Bullet
None
Status Resist
None
Status Immunity
Death, Petrification, Sleep, Silence, Poison, Confusion, Berserk, Curse, Stop, Doom, Delay, Preparation Interruption, Multiple Damage
Other Information
N/A
Normal: "A magic-powered machina used by New Yevon. Its superb attack and defense make it ideal for defending their most important facilities. It's a rare model, of which few remain."
Oversoul: "A magic-powered, oversouled machina. It changes its mode of attack over time, using various forms of rocket punch attacks."
— Scan
YSLS-Zero is the final boss of Chapter 1 in Final Fantasy X-2.
It can be brought down quickly by hitting it with strong physical attacks, or by using Armor Break. It is advised to carry several healing items and to keep HP above half at all times.
Other appearances
Edit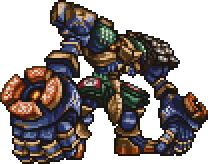 This article or section is a stub about an enemy in Final Fantasy Record Keeper. You can help the Final Fantasy Wiki by expanding it.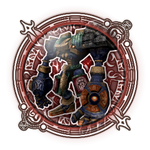 Related enemies
Edit