Y'shtola
Talk

1
13,959 pages on
this wiki
Y'shtola (Pronounced "Yash-Toe-La") is a Seeker of the Sun Miqo'te Conjurer and one the main characters from the Limsa Lominsa story in Final Fantasy XIV. Her first appearance is right at the beginning of the game, helping the player during the Aurelia attack on the ship. She is very enigmatic, and seems to be gathering info on the treasure of the Seal Rock and the mysterious sea serpent that's suddenly attacking ships around Limsa Lominsa. Like the other members of the Circle of Knowing, she has a tattoo on her neck.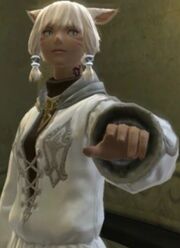 Y'shtola is often seen asking around each guild about the treasure in Seal Rock. However, during her investigation, she hears about an unprecedented attack by the Sahagin on Lominsan ships and the southern lighthouse, lead by a shadowless man, and that while these attacks happened, a pirate group called Kraken's Arms landed on Seal Rock.
Discovering that a pirate called Emerick may know something about it, she heads for the Mealvaan's Gate, where he is supposed to be hiding from another pirate band called Sanguine Sirens. However, the only thing that was being kept there was a special tablet containing important information about the treasure of Seal Rock. Before leaving the custom house, the place is attacked by the Sanguine Sirens who are also after Emerick. They are all easily defeated by Y'shtola and forced to retreat as the Barracuda Knights are sighted.
Y'shtola is later seen with Thancred, Yda, and Papalymo when the player is attacked by Gaius van Baelsar. She and her companions defend the player and briefly fight Gaius. She is seen protecting Thancred with her magic during the battle before she and the other Circle of Knowing members, along with the player, are badly injured by a blast from an Imperial Dreadnought.
The last time Y'shtola is seen is with her friends when the player is being honored for his or her victory over Nael van Darnus.
Non-Final Fantasy appearancesEdit
Y'shtola appears as a card in Lord of Vermilion.