Final Fantasy X-2 Enemy
Xiphactinus
クシファクティヌス (Kushifakutinusu)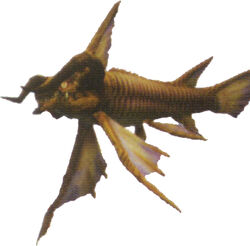 Dinofish
Statistics
Level
HP
MP
12
773
0
Strength
Magic
Defense
77
112
18
M. Defense
Agility
Accuracy
0
53
4
Evasion
Luck
0
0
EXP
AP
Gil
77
1
30
Xiphactinus
クシファクティヌス (Kushifakutinusu)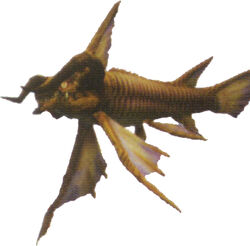 Dinofish
Statistics
Level
HP
MP
14
2,892
0
Strength
Magic
Defense
77
112
18
M. Defense
Agility
Accuracy
0
58
5
Evasion
Luck
0
0
EXP
AP
Gil
102
2
30
Normal: "A fish-like fiend that swims through the air. It has an extremely violent temperament, baring its fangs and charging at anything that moves. Scary."
Oversoul: "A fish-like fiend that swims through the air. It has an extremely violent temperament and attacks viciously and relentlessly."
— Scan
Xiphactinus is an enemy from Final Fantasy X-2. It is not a very powerful enemy, though it is troublesome in Oversoul with its Triple Attack. Using Lightning-elemental attacks will bring it down in no time.
Etymology
Edit
[view · edit · purge]Xiphactinus was a predatory bony fish that lived in the Western Interior Sea, over what is now the middle of North America during the Cretaceous period. Fossils of Xiphactinus have been found in Alabama, Georgia, and Kansas in the United States, as well as in Europe and Australia.
Related enemies
Edit
Ad blocker interference detected!
Wikia is a free-to-use site that makes money from advertising. We have a modified experience for viewers using ad blockers

Wikia is not accessible if you've made further modifications. Remove the custom ad blocker rule(s) and the page will load as expected.