Xarcabard
Talk

0
13,960 pages on
this wiki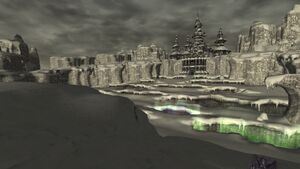 Xarcabard is a location in Final Fantasy XI. It is an ice-covered land in the Valdeaunia region, with ruins dotting the landscape. There are ruins of the Dark Kindred throughout the area, as well as some ruins from a more ancient civilization. The terrain is very mountainous, making travel in the northern parts of Xarcabard more complicated. Giants, demons and undead roam the snowy area. There have also been reports of dragon sightings.
Locations
Edit
Xarcabard Auroras
Edit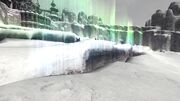 Auroras can be found in the Xarcabard area, appearing most prominently in the foothills of the terrain leading up to Castle Zvahl. While the auroras may be mesmerizing, they can also distract adventurers from the real dangers that stalk the outside of Castle Zvahl, such as demons and undead. Adventurers are advised to explore with caution. The ahriman NM Shadow Eye can be found near the auroras in Xarcabard.

Vazhl Telepoint
Edit
Position: (H-8)
The Vazhl telepoint is a curious artifice. With a piece of the crystal in an adventurer's possession, obtained from the telepoint, the adventurer may teleport to this point by use of the Teleport-Vahzl spell. Unlike every other telepoint, chocobos may not be rented here, since chocobos are unable to traverse the dangerous terrain.

Position: (H-9)
This flag, hastily erected in the middle of the southern end of Xarcabard, marks the region as participating in Conquest. The flag of the outpost changes with the nation, if any, that has taken possession of the region for this cycle of Conquest. Patriotic adventurers may bring supplies to the outpost, participate in Garrison events to defend the outpost from attack, or request for repatriation back to their home nation. Adventurers may also donate equipment to the outpost in order to boost their nation's standing in the region, so long as one of the three nations controls it.

Connected Areas
Edit
A tunnel in the northwest leads to the frozen mountain range of Uleguerand.
A path in the southeast leads to Beaucedine Glacier.
Castle Zvahl is situated west of this area.
Adventurers in possession of certain items may be granted access to the dreamworld of Dynamis at the trail markings found here.
An animated maw leads adventurers in possession of a traverser stone to the Uleguerand Range, in the parallel realm of Abyssea.
Notorious Monsters
Edit
"Xarcabard" is the eponymous track that plays in this area. As with other original field areas, the "Battle Theme" plays during solo battles in the area, and "Battle Theme #2" plays during battles in a party.