Xagor
Talk

0
13,964 pages on
this wiki
"Xagor? You fools, Xagor is the very ocean you see everyday! Only a part of him is here."
—Ballor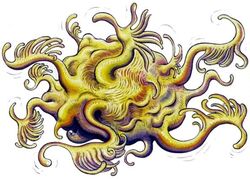 Xagor (ラグナ, Raguna?) is the main antagonist of Final Fantasy Legend III, acting as the leader of the Masters and residing within a castle high atop Mt. Goht. He created the Water Entity, which was slowly flooding the World and unleashing monsters upon humanity. In order to stop the Water Entity, the main characters from the future were sent on a quest through time and Xagor's minions were sent to dispose of their threat.
Xagor also had a massive forcefield around his territory to prevent anyone from entering, this forcefield is powered by the Barrier Machine that is guarded by Agron. Despite this shield making his territory almost impenetrable, he was shown to be able to influence others via an unknown force as was shown during the battle with the Dahak at the entrance of the Southwest Ruins.
Despite all his power, the party managed to find their way into his stronghold via the Underworld, defeating all his minions and breaking the Barrier Machine. They stormed his castle, however thanks to a confrontation with Ballor, they learn that Xagor is far more powerful than they ever imagined. A being that is the embodiment of the oceans of Pureland itself, and that only a small part of him resides in the castle.
Ballor also informs them that Xagor is merging with Sol to become even more powerful. By the time the party face Xagor, he's being held inside Sol who is struggling to keep the evil entity's soul from taking over. This prompts the party into having to kill Sol in an attempt to stop Xagor from escaping. However, despite their efforts, Xagor succeeds and materializes, gloating that with Sol gone, he shall now rule the world. Xagor then proceeds to fight the party and proves to be a powerful opponent, so much that the sentient Talon2 also joins in to aid the heroes in the final confrontation.
After Xagor's defeat, he seemingly vanishes from existence. Sol also sadly perishes, but informs the party that he will destroy the Water Entity with his final breath.
Etymology
Edit
Xagor's Japanese name, Ragnar, is a reference to Ragnarok.
Xagor is modeled in the appearance of Azathoth of the Cthulhu Mythos. The monster, Guha, also takes its appearance after Azathoth.