XCannon
Talk

0
15,950 pages on
this wiki
Final Fantasy VII Enemy
XCannon
超級怒龍砲 (Chōkyū Doryū-hō)

?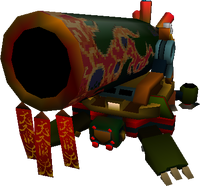 Statistics
Level
HP
MP
46
20,000
100
Attack
Magic
Defense
80
60
120
M. Defense
Dexterity
Evade
400
80
1
EXP
AP
Gil
2,000
90
3,000
Location
Midgar - Mako Cannon
Steal
Nothing
Item Drop
Turbo Ether
Morph
Nothing
Abilities
Drain*, Dragon Cannon, Search
Enemy Skill
N/A
Status immunity
Death, Sadness, Slow, Slow Numb, Fury, Stop, Petrify, Paralyze, Sleep, Confuse, Frog, Death Sentence, Darkness, Poison, Small, Manipulate
Manipulate
Couldn't manipulate.
Other information

-Abilities whose names are not shown when used are highlighted in italics.
-*XCannon never uses this ability.
The XCannon is an enemy from Final Fantasy VII. It will target the party at the start of the battle, then countdown to Dragon Cannon, a pathetically weak attack that hits the entire party. Otherwise, it never attacks, instead using Search, which does nothing. It does, however, prove annoying to the player, with its 20,000 HP.
Interestingly, XCannon is not immune to Berserk but does not have an attack specified to use when Berserk. As such, it attempts to use a spell that costs an infinite amount of MP for the rest of the battle, and so the game repeatedly prints "XCannon's skill power is used up".
AI Script
Edit
AI: Main {
If (Count == 0) Then
{

If (2nd Opponent doesn't have Death Status) Then
{

Choose 2nd Opponent
Use Search on Target

}
If (1st Opponent doesn't have Death Status) Then
{

Choose 1st Opponent
Use Search on Target

}
If (3rd Opponent doesn't have Death Status) Then
{

Choose 3rd Opponent
Use Search on Target

}
Print Message [Target: set]
Print Message [Countdown]
Count = 1

} Else If (Count == 1) Then {

Print Message [3]
Choose Self
Use <> on Target
XCannon's IdleAnim = Cannon Ready
Count = 2

} Else If (Count == 2) Then {

Print Message [2]
XCannon's IdleAnim = Cannon Primed
Count = 3

} Else If (Count == 3) Then {

Print Message [1]
Count = 4

} Else If (Count == 4) Then {

Print Message [0]
Choose All Opponents
Use Dragon Cannon on Target
Count = 5

} Else {

Choose Self
Use <> on Target
XCannon's IdleAnim = Cannon Idle
Count = 0

}
} AI: Counter - General {
If (XCannon's IdleAnim == Cannon Idle) Then
{

XCannon's HurtAnim = Flinch (Cannon Idle)

} Else {

XCannon's HurtAnim = Flinch (Cannon Ready)

}
}