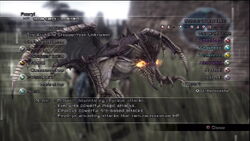 Wrathwyrm is a feral creature class exclusive to Final Fantasy XIII-2. It is a dragon-like enemy.
Feral Creatures
Edit
Etymology
Edit
[view · edit · purge]Wyrm is an alternative name for mythological European dragon. They appear mostly in Celtic and German mythology. They are depicted as flying, fire-breathing reptiles, with magical properties. The word wyrm is the original Germanic-based term for a serpent or dragon, draca being adopted from the Latin draco at an early time.
Ad blocker interference detected!
Wikia is a free-to-use site that makes money from advertising. We have a modified experience for viewers using ad blockers

Wikia is not accessible if you've made further modifications. Remove the custom ad blocker rule(s) and the page will load as expected.