World Of Final Fantasy Trailer
World of Final Fantasy is a role-playing game for the PlayStation 4, PlayStation Vita and Microsoft Windows. It celebrates the Final Fantasy series's thirtieth anniversary and aims to attract a younger audience with its light tone and stylized graphics.[2]
Set in the land of Grymoire, World of Final Fantasy chronicles the adventures of Lann and Reynn, twin siblings who must tame monsters and befriend characters from other Final Fantasy games to reclaim their lost memories.
A multiplayer spin-off, called World of Final Fantasy: Meli-Melo, was announced in November 2017.
An enhanced edition, called World of Final Fantasy Maxima, will release on November 6, 2018, for PlayStation 4, Xbox One, Nintendo Switch and PC. Maxima will have avatar change to transform into a classic Final Fantasy character.[1]
Players determine the actions of Lann, Reynn, and a series of tamable monsters called "Mirages." They explore a variety of locations and use the Mirages in their arsenal to navigate the environment, clear obstacles, or reach hidden treasure. Players can choose to play as Lilikins (small, "chibi" versions of Lann and Reynn) or Jiants (their regular versions), and they can switch between these forms at any time, so long as they are outside battle.
Battles are turn-based. Lann and Reynn team up with their Mirages to form "stacks," which determine the party's stats and usable abilities. They can be toppled by the enemy, resulting in a brief stun period, or manually separated by the player without penalty. Foes sometimes create stacks when encountered, as well.
While Lann and Reynn's primary goal is to collect as many Mirages as possible, they can also accept sidequests to collect additional rewards. As they progress on their journey, the twins are joined by Mega Mirages and Champions, powerful allies that can be called upon to assist them when the necessary conditions have been met.
Characters
Edit
Playable characters
Edit
There are two playable characters who are controlled during battle and can be freely switched between on the field.
Lann - A brash, head-strong and impulsive boy who tends to allow his pride and his guts to get the better of his instinct. Though he appears to be somewhat slow-witted, he frequently shows flashes of wisdom or maturity. He is loyal to his sister and to his family above all else.
Reynn - A level-headed girl who is frequently troubled by the consequences of the actions wrought by herself and her twin brother. Despite her misgivings, she nonetheless continues forward with the execution of the Crimson Prophecy, unable to determine an alternate course of action.
Supporting characters
Edit
Lann and Reynn encounter many unique individuals on their journey through Grymoire. They are characters from the Final Fantasy series, save for one.
Bold text indicates an appearance in the Maxima update.
Italicized text indicates a Champion obtained from DLC.
The World of Final Fantasy Original Soundtrack was composed by Masashi Hamauzu, whose previous works include Dirge of Cerberus -Final Fantasy VII- Original Soundtrack and Final Fantasy XIII: Original Soundtrack. The opening theme, "Innocent²," is written by Ryo Yamazaki and performed by Aoi Mizu, a Japanese singer also known as "Mizuki." The game's ending theme, "World Parade," is written by Ryo Shirasawa of Noisycroak. It is sung by Kana Hanazawa, Eri Kitamura, and Ayana Taketatsu, who voice Enna Kros, Tama, and Serafie in Japan, respectively.
Development
Edit
Realizing few children play Final Fantasy, executive producer Shinji Hashimoto approached Hiroki Chiba to fix this. World of Final Fantasy was subsequently born, and art designer Yasuhisa Izumisawa created stylized characters for use in the project.[2]
It was revealed World of Final Fantasy is experienced through its protagonists' eyes, thus scenes were added to the game that would grab players' attention and invest them in it emotionally.[2]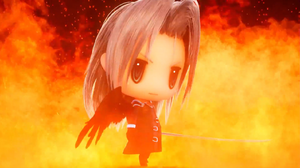 World of Final Fantasy was released in North America, Japan, and Europe on October 25, 27, and 28, 2016, respectively. Standard, Day 1, Limited, and Collector's Editions were available. Day 1 Editions came with the option to use Japanese voice acting, a Sephiroth Champion medal, and access to three Mirages: Red Bonnetberry, White Chocobo, and Glow Moogle. Pre-ordered Day 1 Editions also contained a Cactuar Johnny Mirage, Crimson Armor, and a PlayStation 4 theme. Limited Editions include the aforementioned content, as well as a 24-page art book. Collector's Editions could only be obtained from the Square Enix Online Store, and they contain all exclusive material from the game's other versions and are packaged with an 80-page art book, a copy of the World of Final Fantasy Original Soundtrack, and a set of three mini figures: Cloud, Squall, and Lightning.
A PC version was announced on October 31, 2017, and released on November 21 via Steam. The Day 1 Edition, which included a digital soundtrack sample and a desktop wallpaper, was available until November 28.

Packaging artwork
Edit
Production credits
Edit
Voice cast
Edit
The Final Fantasy world is called the "World of Final Fantasy" in an episode of Captain N: The Game Master.
Tifa, Rikku, Lightning and Y'shtola wear their outfits from the games in which they most recently appeared. However, excluding Y'shtola, their ages are listed as being the same as those from their games of origin.
External links
Edit
References
Edit