Below is a list of locations in the world of the original Final Fantasy.
The world was never named in the original game, but is referred to as World A in Dissidia 012 Final Fantasy. This world is shown in the ending of Dissidia Final Fantasy and Light to All in Dissidia 012, and it also has a near-duplicate world called World B where the Dissidia games take place.
List of Locations
Edit
Dungeons
Edit
Miscellaneous
Edit
Other appearances
Edit
TFFCC World A appears as the FMS for several Final Fantasy themes:
"Main Theme"*

from Final Fantasy

"Opening Theme"*

from Final Fantasy

"Airship"*

from Final Fantasy
Non-Final Fantasy guest appearances Edit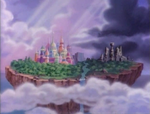 Due to not having an official name for this world during the Nintendo era of the original's game release, the creator/writers of the show referred to it as the World of Final Fantasy, named after the game. It is described as being a medieval world.
Ad blocker interference detected!
Wikia is a free-to-use site that makes money from advertising. We have a modified experience for viewers using ad blockers

Wikia is not accessible if you've made further modifications. Remove the custom ad blocker rule(s) and the page will load as expected.