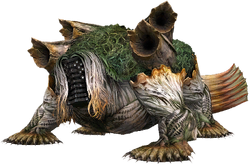 The woodwraith class is a type of feral creature found in Final Fantasy XIII and Final Fantasy XIII-2. They are monster-like animals found on Cocoon and Gran Pulse. They are related to elements.
In Final Fantasy XIII-2, woodwraiths usually are Sentinel-type Paradigm Pack monster allies. They are all characterized by their large HP totals.

Feral Creatures
Edit
In Final Fantasy XIII-2, not a single woodwraith from the predecessor is used as an enemy, but Enlil appears as a means of transport in the Sunleth Waterscape.
Ad blocker interference detected!
Wikia is a free-to-use site that makes money from advertising. We have a modified experience for viewers using ad blockers

Wikia is not accessible if you've made further modifications. Remove the custom ad blocker rule(s) and the page will load as expected.