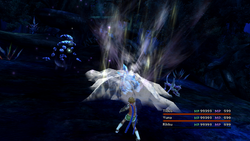 Winter Storm (ウインターストーム, Uintā Sutōmu?) is a recurring ability in the series. It is a Limit Break ability for Rikku, originally appearing as part of her Overdrive, Mix.
Appearances
Edit
X Winter Storm is an ability used via Rikku's Mix Overdrive, which inflicts 9 hits of major Ice-elemental to all enemies.
X-2 Winter Storm returns as an ability usable via the Mix command, which inflicts 4 hits of roughly 400 Ice-elemental damage to random enemies.
Etymology
Edit
A winter storm is an event in which the varieties of precipitation are formed that only occur at low temperatures, such as snow or sleet, or a rainstorm where ground temperatures are low enough to allow ice to form (i.e. freezing rain).
Ad blocker interference detected!
Wikia is a free-to-use site that makes money from advertising. We have a modified experience for viewers using ad blockers

Wikia is not accessible if you've made further modifications. Remove the custom ad blocker rule(s) and the page will load as expected.