Wind Drake
Talk

46
13,960 pages on
this wiki
Wind Drakes (飛竜, hiryū?, lit. "flying dragon") or Wyverns (ワイバーン, waibaan?), are a friendly dragon race in the Final Fantasy series, often associated with Dragoons or Highwinds.
It should be noted that the term hiryū is not localized consistently in English-language versions, but is uniform in the Japanese versions. They are a separate entity from the recurring wyvern enemy species, though in the Japanese version of Final Fantasy XI, hiryū and "wyvern" are often used interchangeably, despite being separate enemy species.
Appearances
Edit
Main article: Wyvern (Final Fantasy II)
Wyverns are a near-extinct species of flying dragons, and are used as steeds by the Dragoons of Deist.
In the Final Fantasy IV Setting Data Book, wyverns are referred to as the former steeds of Baron's Dragoons which, along with their riders, were largely phased out of service in favor of more efficient airship technology.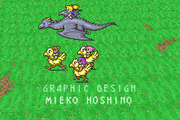 Wind drakes are an endangered species, and only a few of them live in each world. They are nearing extinction due to the poisoning of dragon grass, which has been the phobia of wind drakes for years. Lenna and Krile both own a wind drake.
King Alexander Highwind Tycoon uses Lenna's wind drake, named Hiryu, to travel to the Wind Shrine at the start of the game. It gets stranded on the Northern Mountains and Lenna, along with Bartz, Galuf, and Faris, rescue it, and they use it to fly to the nation of Walse. Hiryu can also carry the party past the Tycoon Meteor to Castle Tycoon, where the party can gain advanced items and equipment and Lenna speaks with Faris about her origins. As Hiryu cannot fly over mountains, the party is forced to leave it behind as they continue to Karnak.
In the Second World, Galuf uses Krile's wind drake to rescue Bartz, Lenna, and Faris, whom Gilgamesh is holding as prisoners at Castle Exdeath. He succeeds, and sends the wind drake back to Krile. Galuf does not return safely and Krile discovers, through telepathy, that Bartz, Galuf, Lenna, and Faris are in a Moogle Village, and uses the wounded wind drake to rescue them and take them back to Castle of Bal.
This makes the wind drake even more sick, and Bartz's party is forced to travel to the Drakenvale to find some dragon grass and decontaminate it. The wind drake refuses to eat the plant, and Lenna eats it as a means of persuasion, but becomes sick due to the plant being poisonous to humans. The wind drake recovers, and Bartz's group uses it to travel around the Second World.
In the Merged World, Hiryu saves Lenna from being thrown into the Void, and makes a desperate attack to save Lenna from a monster possession. Hiryu is found atop the Phoenix Tower, where it jumps off to become the Phoenix summon. Krile's wind drake is waiting atop Bal Castle, and can be retrieved at any time. A wind drake later manages to save the four warriors of light from the Void.
Wind drakes controlled by the player can travel over ocean, but not mountains. They can only land on plains. In the third world there is a glitch that can cause the player to lose their wind drake if they land it atop Ghido's Cave.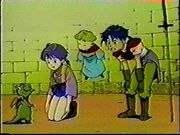 Called Hyriuus, they are known as "Tycoon's sacred dragon". Linaly, Mid's ghost, and Prettz meet one in the Temple of Winds after being ordered there by Queen Lenna.
The dragon, at first small and weak, soon grows larger before their eyes. It eventually breaks out of the Temple of Winds and flies Prettz to the Black Moon to face off with Ra Devil.
In the end, Hyriuu reduces back to it's normal size once it reaches the Black Moon, and Rouge throws it to the other pirates with orders to take care of it.
Main article: Wyvern (Dragoon)
Wyverns are minions summoned by the Dragoon Job, and appear as both allies and enemies.
The Wind Drakes make an appearance once again in this game and are portrayed just like their counterparts in Final Fantasy II.