Wightslayer
Talk

0
13,972 pages on
this wiki
Relm

: I couldn't miss the chance to practice my drawing!
This article is in need of a few pictures. Perhaps you can help by

uploading

and adding a picture or two.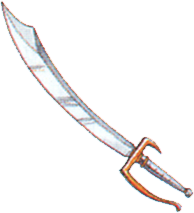 The Wightslayer (ワイトスレイヤー, Waito Sureiya?) is a recurring low to mid-ranked sword in the series.
Appearances
Edit
The Wightslayer is a low-ranked sword, equippable only by the Freelancer, Red Mage, and Onion Knight. It gives 15 Attack and can be found in Castle Sasune and Village of the Ancients.
The Wightslayer is the base form of the Mythic Weapon Tizona. It is equippable at level 75 by Blue Mages. It has a damage of 41 and a delay of 236. It can be upgraded to the Tizona through the Mythic Weapon questline, and it may also be used in the quest Unlocking a Myth to teach Blue Mages the Weapon Skill Expiacion. It can drop from any Notorious Monster fought in Nyzul Isle, and is guaranteed to drop from the Notorious Monster fought on floor 100 of Nyzul Isle if the person initiating the mission is a Blue Mage.
Wightslayer can be wielded by the Warrior and Thief job classes. It provides 59 attack.

Wightslayer is a low-level sword. It provides 25 attack power and +1 Attack, and is effective against the undead.
"This sword is so amazing that it can actually kill that which is already dead."
—Description
Wightslayer grants +3 to Attack. It can be equipped by Warrior, Red Mage, Blue Mage, Onion Knight, Firion, Terra, Celes, Zidane, Tidus, Ashe, and Lightning.