White Magic
Talk

7
13,964 pages on
this wiki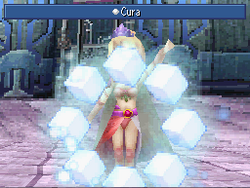 White Magic (白魔法, Shiro Mahō?) is one of the main types of Magic in the Final Fantasy series. It focuses mainly on recovery and support magic, although there is usually some strategic magic in the skill set. In titles that feature the job system, White Magic is commonly associated with the White Mage Job class.
Over the course of the titles, White Magic spells have been interchanged with Black Magic, and in some recent Ivalice titles, a new school of magic known as Green Magic.
White Magic support spells can usually be used against undead type monsters to deal damage.
Spells List
Edit
Recurring
Edit
Healing spells
Field spells
Teleport - Sometimes a Time Magic spell, sends party outside of dungeons or escapes from battles.
Support spells
Effect spells
Confuse - Causes an enemy to act randomly, attacking both allies and foes alike.
Dispel - Occasionally classified as Black Magic or other categories. Dispel removes one or more positive status effects from a target. Its upgrade is Dispelga.
Libra - Allows a character to find out an enemy's stats, HP/MP, and weaknesses. Called Scan in Final Fantasy VIII, Final Fantasy IX and Final Fantasy X.
Mini - Reduces an enemy's size, decreasing physical Attack power.
Attack spells
Dia - This spell differs from game to game, but generally deals small amount of light- or holy-elemental damage to the target. It has 4 levels; level 2 being Diara, level 3 being Diaga, and level 4 being Diaja.
Game-specific
Edit
The following spells are not included in most Final Fantasy titles, but have made appearance as White Magic.
Support spells
Effect spells
Jewel - Exclusive to Final Fantasy IX, draws an Ore from an enemy.
Repose - Final Fantasy XI, Repose is White Magic capable of causing Sleep.
Sap - In Final Fantasy II, inflicts damage on a target's MP.
Swap - Exclusive to Final Fantasy II. Switches caster's current HP and MP with the target.
Attack spells
Aero - In Final Fantasy III it is White Magic unlike later titles.
Rela Crystal - In Final Fantasy Crystal Chronicles: Ring of Fates, Rela Crystal is a holy-elemental attack spell that can only be cast during one boss fight.