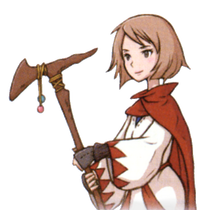 Mage who commands magicks that mend flesh and bind wounds.
—Description
The White Mage is a hume Sky Pirate job from Final Fantasy XII: Revenant Wings. It is a Ranged unit that commands healing White Magicks.
The enemy White Mage knows a variety of defensive abilities that Penelo, Fran, and Basch can also learn.
| Skill | Effect |
| --- | --- |
| Revitalize | Restore a small amount of HP to one ally and remove debuffs. |
| Curaga | Restore HP to all allies in range. |
| Protectga | Increase Stamina of all allies in range. |
| Shellga | Increase Magick Defense of all allies in range. |
| Esunaga | Remove debuffs from all allies in range. |
| Dispelga | Remove buffs from all foes in range. |
| Holy | Deal damage to one foe. |
| Whistlewind | Reduces summoning time. |
Missions
Edit
Final Fantasy XII: Revenant Wings Enemy
Stubborn Sky Pirate
({{{japan}}},

{{{romaji}}}

?)
Level
HP
7
339
Str
Mag
Stm
Mnd
56
65
65
74
Atk
MAtk
Def
MDef
19
26
26
38
Speed
AtkSpd
MvSpd
Sight
65
12
0.714
5
| | |
| --- | --- |
| Location | {{{Location}}} |
| Type | Ranged |
| Nature | Healing |
| Weak Against | None |
| Resistant to | None |
| Immune to | None |
Final Fantasy XII: Revenant Wings Enemy
Spoony Sky Pirate
({{{japan}}},

{{{romaji}}}

?)
Level
HP
13
381
Str
Mag
Stm
Mnd
80
100
95
110
Atk
MAtk
Def
MDef
35
55
38
57
Speed
AtkSpd
MvSpd
Sight
95
12
0.714
5
| | |
| --- | --- |
| Location | {{{Location}}} |
| Type | Ranged |
| Nature | Healing |
| Weak Against | None |
| Resistant to | None |
| Immune to | None |
Final Fantasy XII: Revenant Wings Enemy
Narcissistic White Mage
({{{japan}}},

{{{romaji}}}

?)
Level
HP
19
423
Str
Mag
Stm
Mnd
104
125
125
151
Atk
MAtk
Def
MDef
46
71
51
77
Speed
AtkSpd
MvSpd
Sight
125
12
0.714
5
| | |
| --- | --- |
| Location | {{{Location}}} |
| Type | Ranged |
| Nature | Healing |
| Weak Against | Fire |
| Resistant to | Water |
| Immune to | None |
Final Fantasy XII: Revenant Wings Enemy
Wanton Mage
({{{japan}}},

{{{romaji}}}

?)
Level
HP
31
507
Str
Mag
Stm
Mnd
152
185
185
228
Atk
MAtk
Def
MDef
68
106
76
117
Speed
AtkSpd
MvSpd
Sight
185
13
0.714
5
| | |
| --- | --- |
| Location | {{{Location}}} |
| Type | Ranged |
| Nature | Healing |
| Weak Against | None |
| Resistant to | Thunder |
| Immune to | None |
Final Fantasy XII: Revenant Wings Enemy
Wayward White Mage
({{{japan}}},

{{{romaji}}}

?)
Level
HP
39
563
Str
Mag
Stm
Mnd
184
225
225
281
Atk
MAtk
Def
MDef
86
136
96
155
Speed
AtkSpd
MvSpd
Sight
225
13
0.714
5
| | |
| --- | --- |
| Location | {{{Location}}} |
| Type | Ranged |
| Nature | Healing |
| Weak Against | None |
| Resistant to | None |
| Immune to | None |
Final Fantasy XII: Revenant Wings Enemy
White-Clad Sky Pirate
({{{japan}}},

{{{romaji}}}

?)
Level
HP
13
381
Str
Mag
Stm
Mnd
80
100
95
110
Atk
MAtk
Def
MDef
40
65
38
57
Speed
AtkSpd
MvSpd
Sight
95
12
0.714
5
| | |
| --- | --- |
| Location | {{{Location}}} |
| Type | Ranged |
| Nature | Healing |
| Weak Against | None |
| Resistant to | None |
| Immune to | None |
Final Fantasy XII: Revenant Wings Enemy
Paula, Plunderer
({{{japan}}},

{{{romaji}}}

?)
Level
HP
21
437
Str
Mag
Stm
Mnd
112
135
135
163
Atk
MAtk
Def
MDef
48
73
53
80
Speed
AtkSpd
MvSpd
Sight
135
12
0.714
5
| | |
| --- | --- |
| Location | {{{Location}}} |
| Type | Ranged |
| Nature | Healing |
| Weak Against | Fire |
| Resistant to | Water |
| Immune to | None |
Final Fantasy XII: Revenant Wings Enemy
White Mage
({{{japan}}},

{{{romaji}}}

?)
Level
HP
Party's Average Level +1
290 - 983
Str
Mag
Stm
Mnd
28 - 424
30 - 525
30 - 525
32 - 626
Atk
MAtk
Def
MDef
17 - 116
27 - 151
17 - 141
28 - 176
Speed
AtkSpd
MvSpd
Sight
30 - 525
12
0.714
5
| | |
| --- | --- |
| Location | {{{Location}}} |
| Type | Ranged |
| Nature | Healing |
| Weak Against | None |
| Resistant to | None |
| Immune to | None |