Ad blocker interference detected!
Wikia is a free-to-use site that makes money from advertising. We have a modified experience for viewers using ad blockers

Wikia is not accessible if you've made further modifications. Remove the custom ad blocker rule(s) and the page will load as expected.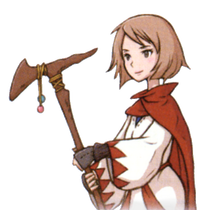 Mage who commands magicks that mend flesh and bind wounds.
—Description
The White Mage is a hume Sky Pirate job from Final Fantasy XII: Revenant Wings. It is a Ranged unit that commands healing White Magicks, much like the playable character Penelo.
The enemy White Mage knows a variety of defensive abilities that Penelo, Fran, and Basch can also learn.
| Skill | Effect |
| --- | --- |
| Revitalize | Basic - Restore a small amount of HP to one ally and remove debuffs. |
| Curaga | Restore HP to all allies in range. |
| Protectga | Increase Stamina of all allies in range. |
| Shellga | Increase Magick Defense of all allies in range. |
| Esunaga | Remove debuffs from all allies in range. |
| Dispelga | Remove buffs from all foes in range. |
| Holy | Deal damage to one foe. |
| Whistlewind | Passive - Reduces summoning time. |
Missions
Edit
Final Fantasy XII: Revenant Wings Enemy
Stubborn Sky Pirate
({{{japan}}},

{{{romaji}}}

?)
Level
HP
7
339
Str
Mag
Stm
Mnd
56
65
65
74
Atk
MAtk
Def
MDef
19
26
26
38
Speed
AtkSpd
MvSpd
Sight
65
12
0.714
5
| | |
| --- | --- |
| Location | {{{Location}}} |
| Type | Ranged |
| Nature | Healing |
| Weak Against | None |
| Resistant to | None |
| Immune to | None |
Final Fantasy XII: Revenant Wings Enemy
Spoony Sky Pirate
({{{japan}}},

{{{romaji}}}

?)
Level
HP
13
381
Str
Mag
Stm
Mnd
80
100
95
110
Atk
MAtk
Def
MDef
35
55
38
57
Speed
AtkSpd
MvSpd
Sight
95
12
0.714
5
| | |
| --- | --- |
| Location | {{{Location}}} |
| Type | Ranged |
| Nature | Healing |
| Weak Against | None |
| Resistant to | None |
| Immune to | None |
Final Fantasy XII: Revenant Wings Enemy
Narcissistic White Mage
({{{japan}}},

{{{romaji}}}

?)
Level
HP
19
423
Str
Mag
Stm
Mnd
104
125
125
151
Atk
MAtk
Def
MDef
46
71
51
77
Speed
AtkSpd
MvSpd
Sight
125
12
0.714
5
| | |
| --- | --- |
| Location | {{{Location}}} |
| Type | Ranged |
| Nature | Healing |
| Weak Against | Fire |
| Resistant to | Water |
| Immune to | None |
Final Fantasy XII: Revenant Wings Enemy
Wanton Mage
({{{japan}}},

{{{romaji}}}

?)
Level
HP
31
507
Str
Mag
Stm
Mnd
152
185
185
228
Atk
MAtk
Def
MDef
68
106
76
117
Speed
AtkSpd
MvSpd
Sight
185
13
0.714
5
| | |
| --- | --- |
| Location | {{{Location}}} |
| Type | Ranged |
| Nature | Healing |
| Weak Against | None |
| Resistant to | Thunder |
| Immune to | None |
Final Fantasy XII: Revenant Wings Enemy
Wayward White Mage
({{{japan}}},

{{{romaji}}}

?)
Level
HP
39
563
Str
Mag
Stm
Mnd
184
225
225
281
Atk
MAtk
Def
MDef
86
136
96
155
Speed
AtkSpd
MvSpd
Sight
225
13
0.714
5
| | |
| --- | --- |
| Location | {{{Location}}} |
| Type | Ranged |
| Nature | Healing |
| Weak Against | None |
| Resistant to | None |
| Immune to | None |
Final Fantasy XII: Revenant Wings Enemy
White-Clad Sky Pirate
({{{japan}}},

{{{romaji}}}

?)
Level
HP
13
381
Str
Mag
Stm
Mnd
80
100
95
110
Atk
MAtk
Def
MDef
40
65
38
57
Speed
AtkSpd
MvSpd
Sight
95
12
0.714
5
| | |
| --- | --- |
| Location | {{{Location}}} |
| Type | Ranged |
| Nature | Healing |
| Weak Against | None |
| Resistant to | None |
| Immune to | None |
Final Fantasy XII: Revenant Wings Enemy
Paula, Plunderer
({{{japan}}},

{{{romaji}}}

?)
Level
HP
21
437
Str
Mag
Stm
Mnd
112
135
135
163
Atk
MAtk
Def
MDef
48
73
53
80
Speed
AtkSpd
MvSpd
Sight
135
12
0.714
5
| | |
| --- | --- |
| Location | {{{Location}}} |
| Type | Ranged |
| Nature | Healing |
| Weak Against | Fire |
| Resistant to | Water |
| Immune to | None |
Final Fantasy XII: Revenant Wings Enemy
White Mage
({{{japan}}},

{{{romaji}}}

?)
Level
HP
Party's Average Level +1
290 - 983
Str
Mag
Stm
Mnd
28 - 424
30 - 525
30 - 525
32 - 626
Atk
MAtk
Def
MDef
17 - 116
27 - 151
17 - 141
28 - 176
Speed
AtkSpd
MvSpd
Sight
30 - 525
12
0.714
5
| | |
| --- | --- |
| Location | {{{Location}}} |
| Type | Ranged |
| Nature | Healing |
| Weak Against | None |
| Resistant to | None |
| Immune to | None |