Final Fantasy X-2 Enemy
White Elemental
ホワイトエレメンタル (Howaito Erementaru)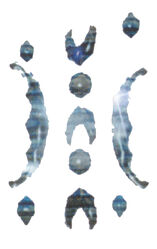 Elemental
Statistics
Level
HP
MP
14
77
155
Strength
Magic
Defense
1
198
31
M. Defense
Agility
Accuracy
105
58
0
Evasion
Luck
0
0
EXP
AP
Gil
28
1
26
White Elemental
ホワイトエレメンタル (Howaito Erementaru)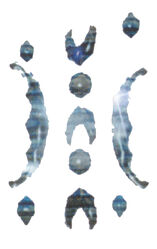 Elemental
Statistics
Level
HP
MP
18
308
155
Strength
Magic
Defense
1
202
33
M. Defense
Agility
Accuracy
105
64
0
Evasion
Luck
0
0
EXP
AP
Gil
53
2
50
Location
Lake Macalania
Zanarkand Dome
Via Infinito Floors 7 - 9
Chapters
1, 2, 5
Common Steal
Arctic Wind x2
Rare Steal
Arctic Wind x3
Gil Steal
220
Common Drop
Antarctic Wind x4
Rare Drop
Antarctic Wind x4
Common Bribe
Ice Gem x8
Rare Bribe
Ice Gem x10
Abilities
Blizzard, Magic Down, Magic Up, Osmose
Blue Bullet
None
Status Resist
Eject (10), Zantetsu (3)
Status Immunity
Petrification, Sleep, Confusion, Berserk, Curse, Magic Down
Other Information
N/A
Normal: "A fiend created when the power of ice fuses with pyreflies. It fires freezing shards at all who approach. Fire is its only elemental weakness."
Oversoul: "A fiend created when the power of ice fuses with pyreflies. Fire is its only elemental weakness. Its ice damage grows weaker as it attacks."
— Scan
White Elemental is an enemy from Final Fantasy X-2. It is not a very powerful enemy, and falls extremely quickly to Fire-elemental attacks. The player should not have any problems dealing with this foe.
Fiend Tale
Edit
In the Fiend Tale endings, one notable White Elemental was created from the spirits of monks who died when Macalania Temple sank. When Yevonites who left the temple learned of this, they held a ceremony to ease the souls of their tormented brethren.
Other appearances
Edit


This article or section is a stub about an enemy in Final Fantasy Record Keeper. You can help the Final Fantasy Wiki by expanding it.
Etymology
Edit
[view · edit · purge]An elemental is a mythic being described in occult and alchemical works from around the time of the European Renaissance and particularly elaborated in the 16th century works of Paracelsus.
Related enemies
Edit