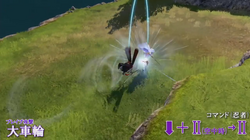 Wheeling Thrust (大車輪, Dai Sharin?, lit. Giant Swing) is a recurring ability in the series.
Appearances
Edit
Wheeling Thrust is a Dragoon ability available after completing the level 58 job quest "Sanguine Dragoon". It delivers an attack to a target with a potency of 250, and 290 when executed from the target's rear. It can only be executed while under the effect of both Blood of the Dragon and Enhanced Wheeling Thrust. Blood of the Dragon status is granted by Blood of the Dragon, and Enhanced Wheeling Thrust is granted after successfully executing the Impulse Drive - Disembowel - Chaos Thrust combo. Wheeling Thrust also extends Blood of the Dragon duration by 10s to a maximum of 30s.
In PvP, Wheeling Thrust can combo from Chaos Thrust. If the combo is successful, the gaze of the Dragon Gauge increases by 1, and the Blood of the Dragon or Life of the Dragon duration increases by 15s to a maximum of 30s.