Western Keep
18,948 pages on
this wiki
Talk

0
The Western Keep is a location from the original Final Fantasy. It is located northwest of Elfheim.
The Warriors of Light meet an old and fat king here, who asks them to retrieve his Crown from the Marsh Cave. Then they bring it back to him, he reveals that he is really Astos, and attacks. He is defeated and the Warriors of Light recover the Crystal Eye of Matoya.
The background music that plays inside the Western Keep is called "Ruined Castle". It is a remix of the Castle theme.

Other appearances
Edit
The ruins of Western Keep can be found in the overworld of Dissidia 012, in the Melmond Fens area. In the Confessions of the Creator Scenario, a Teleport Stone is located there.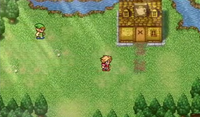 Entering Elfheim, the Warriors of Light learn that the dark elf king Astos has ensorcelled the prince of the elves in a magical slumber. The search for Astos begins.
—Description
Western Keep is unlocked by completing Chaos Shrine in the Final Fantasy I realm. Completion of this dungeon unlocks Semitt Falls Cavern in the Final Fantasy II realm.
Western Keep
Dungeon Info
Difficulty
Classic
16
Total Stamina
Classic
25
Elite
25
Elite
49
Locations
Name
Stamina
Rounds
Classic
Elite
Marsh Cave - 1st Level
6
12
3
Marsh Cave - 2nd Level
6
12
4
Marsh Cave - 3rd Level
6
12
5
Western Keep - Throne Room
7
13
3
Enemies
Regular Enemies
Bosses

Target Score(s)

Western Keep - Throne Room

Afflict Astos with Silence.
Classic Rewards
Completion Type
Item
Quantity
Completion Reward
Gil
1,500
Mastery Reward
Lesser White Orb
5
Stamina Shard
2
First Time Completion
Mythril
1
Stamina Shard
2
Elite Rewards
Completion Type
Item
Quantity
Completion Reward
Gil
10,000
Mastery Reward
Greater Power Orb
3
Stamina Shard
1
First Time Completion
Mythril
1
Stamina Shard
1