Werebuster
Talk

0
13,960 pages on
this wiki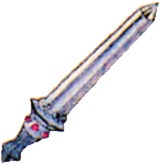 "A sword effective against werebeasts."
—Description, Final Fantasy
The Werebuster (ウエアバスター, Ueabasutā?) is a recurring low-ranked weapon in the series. It sometimes has the capabilities to deal extra damage to werebeast enemies.
Appearances
Edit
The Werebuster is a low to mid-ranked sword that provides 18 Attack, 15 Accuracy, and 26 Critical. It can be found in the Chaos Shrine by using the Mystic Key, and it deals extra damage against Werebeasts. It can be equipped by the Warrior, Knight, Ninja, Red Mage, and Red Wizard.
"A spiked mace effective against werebeasts."
—Description
The Werebuster is a low-ranked Staff that provides 28 Attack, 62% Accuracy, 2% Evasion, and -5 Intelligence and Soul. It dealt more damage to Werefiends and could be found in Kashuan Keep.
The Werebuster is a level 1 Axe that provides -52 Bravery, +26 Attack, and Wall Rush HP Damage +5%. In the Labyrinth, it is used to get a Cottage. It can be obtained from the shop by trading in 1 gil and a Joy of Conflict in the Labyrinth.