Weiss
Talk

9
15,959 pages on
this wiki
"The time has come to cleanse this planet. The pure will be "spared" for the cause, while the tainted will be hunted down and exterminated. They shall be slashed, strangled, and slaughtered. Beaten, stabbed, and crushed. Garroted and impaled. Shot and executed without mercy. The time has come to cleanse this world."
—Weiss
Weiss the Immaculate (純白の帝王ヴァイス, Junpaku no Teiō Vaisu?, lit. Weiss, the Pure White Emperor) is a member of the Tsviets and the primary antagonist of Dirge of Cerberus -Final Fantasy VII-. He is voiced by Dave Boat in the English version and Jouji Nakata in the Japanese version. His name comes from the German word Weiß, meaning white.
A mysterious SOLDIER who commands Deepground, Weiss declared a hunt on the world three years after the Meteor crisis. He received the title of emperor, as he is the strongest Tsviet, as well as the first member. Deepground soldiers fear his power and follow him; however, it is said they rarely see him directly. He has a deep bond with his younger brother, Nero the Sable.
Appearance and Personality
Edit
Main article: Weiss Empowered
Weiss is fought as a boss twice at the end of Chapter 11. At first he cannot be killed, as it is extremely difficult to hit him and any hits do not affect his health, so the player must lose. He is fought again in a regular battle once Vincent has been augmented by Chaos. Weiss then comes back fused with the Omega as the game's final boss, Omega Weiss.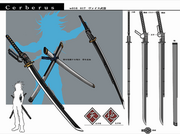 Weiss wields a pair of lever-action sword revolvers forged by Argento. Though only officially referred to as "Weiss's weapons", they are identified by the emblems on their hilts: Heaven (天, Ame?) on the one carried in his right hand, and Earth (地, Tsuchi?) on the one carried in his left.
Sometimes referred to as gunblades by fans, Weiss's weapons are more accurately compared to various real world pistol swords that attempted to combine firearms with edged weapons. In the Final Fantasy VII 10th Anniversary Ultimania, the weapons are described as, "a set [of weapons] that combine a revolver-type gun and a katana, with the reload action pictured in the concept art".
When fighting against Omega Weiss, he uses different swords, a pair of long katanas similar in design to Sephiroth's Masamune.
Other appearances
Edit
Weiss appears in the Final Fantasy Trading Card Game with an ice-elemental card. His card depicts his official render.

Etymology
Edit
Weiss (spelled weiß) is the German word for "white", which shows the relationship between him and his brother Nero (which is Italian for "black"). His subtitle, Immaculate, refers to pure whiteness and is derived from the Roman Catholic belief of the Immaculate Conception, which is where the Virgin Mary was born without the stain of Original Sin, similar to how Weiss was created to be untainted from the Lifestream.
Although his official date of birth is unknown, taking into account the dates of the Jenova Project and his younger brother Nero's age, Weiss is probably around 24 years old.
Weiss is named after the German word for "White". His brother Nero's name means "Black" in Latin, so their names mean "Black and White".