Cid:

Oh, shut up and help me remodel the Weekend Orb Rush page!

Please expand this article into a full one . This request can be discussed on the associated discussion page. Remove this notice upon completion.
Barret:

There's no gettin' off this train we on 'till we reach the end of the line.

This article is about an incomplete event in Final Fantasy Record Keeper that's continually being updated. As such, some of the information might be inaccurate or likely to change. Please look over our

policy for updating articles covering upcoming games

before editing this page.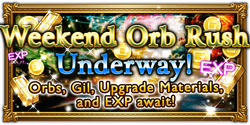 Weekend Orb Rushes were a series of Special Events in Final Fantasy Record Keeper that allowed players to collect various types of Ability synthesis orbs and equipment upgrade materials over specific periods. As of June 2016, four such events have already aired, with more possible as the game remains active.

This article or section is a stub in Final Fantasy Record Keeper. You can help the Final Fantasy Wiki by expanding it.