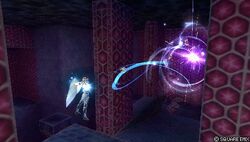 Weaponsmaster (マスターオブアームズ, Masutā obu Āmusu?, lit. Master of Arms) is a recurring ability in the series. It is an ability used exclusively by Firion.
Appearances
Edit
Dissidia Weaponsmaster is an aerial physical HP Attack learned at level 38. It requires 40 CP to equip (20 when mastered), 300 AP to master, has Melee High priority, and can induce Wall Rush. The attack steals Bravery from the opponent, then inflicts 22 damage while generating 130 EX Force.
Dissidia012 Weaponsmaster returns as a HP Attack for Firion, now learned at level 8, requiring 30 CP to equip (15 when mastered), and 130 AP to master. It now generates 30 EX Force upon damaging the target.