Power Break
Talk

0
15,263 pages on
this wiki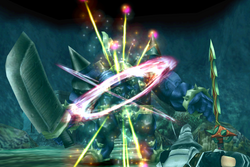 "You will hurt no one!"
—Auron, Final Fantasy X
Power Break (パワーブレイク, Pawā Bureiku?), also known as Wither and Debrave, is an ability that reduces the target's physical power.
Appearances
Edit
Power Break is one of Steiner's Sword Arts. It costs 8 MP to use, and can be learned for 40 AP from the Diamond Sword.
The formula for Power Break is:
Power Break has a 50% accuracy rate, but can be used repeatedly to lower an enemy's Strength stat.
Power Break is found on Auron's area of the Sphere Grid and is learned by him by default. It can be taught to an aeon with eight Stamina Springs. It halves the target's attack power and can be cured with Dispel. It costs 8 MP to perform.
| Game Element | Type | Effect |
| --- | --- | --- |
| Power Break | Ability | Non-elemental physical damage and Power Break. |
| Goodnight | Enemy Attack | Non-elemental damage as well as Power Break, Sleep, Poison, Berserk, and Armor Break to the party. |
| Ultra Spark | Enemy Attack | Extreme non-elemental damage as well as Power Break, Poison, and Curse on the party. |
| Heavenly Strike | Enemy Attack | Dark Shiva's version. Inflicts non-elemental damage as well as Power Break, Confuse, and Death. |
Used by the Warrior dressphere, Power Break takes 30 AP to learn and 4 MP to cast. Power Eraser is usable by Rikku while in Mascot and targets all enemies. It takes 40 AP to learn and 12 MP to cast.

Weapon Break is a Great Axe Weapon Skill which lowers Attack.

Wither is a Technick bought at Balfonheim for 3,500 gil, and can be licensed for 35 LP.
In the International Zodiac Job System version, Wither is learned by Monk, Breaker and Uhlan, although the Uhlan must acquire the license for the Esper Cúchulainn first. Wither is found in a treasure in Pharos Subterra in Abyssal North where Vagrant Soul is fought, and has a 10% chance of appearing.
Vaan's Steal Strength ability transfers strength from the target to him. Vaan learns it on level 25.

Debrave is a negative status effect that lowers the target's physical attack power by 88%. It can be cured with Esuna, Dispel or Dispelga, and can be canceled out with the Bravery status. Only enemies can cast Debrave, and the skill isn't available to the player party.

Debrave remains the same as in Final Fantasy XIII and the status can only be inflicted by enemies.

Power Break, known as Rend Power in the Final Fantasy Tactics: The War of the Lions, is an ability learned by the Knight job class that reduces the target's Physical Attack stat by 3. Knights also have Weapon Break, or Rend Weapon, which breaks the target's equipped weapon. Rend Power is learned for 250 JP, while Rend Weapon is learned for 400 JP.
Power Break is used by both Soldiers and Warriors. It is learned for 200 AP from the Barong for the Soldier job and 200 AP for the Warrior job. The amount reduced depends on the level of the user and the level of the target.

Rend Power is used by the Soldier and Warrior classes, which lowers Attack power of a target in Weapon range. It is learned for 250 AP through the Barong for Soldiers, and 250 AP through the List of Final Fantasy Tactics A2: Grimoire of the Rift Weapons/Edged Weapons#Samson Sword|Samson Sword]] for Warriors.
Power Crush is an ability that Raptors can learn from the Samson Sword and is mastered for 250 AP. In addition to lowering the target's Attack power it deals damage to it.
The Scholar's Quell ability halves the enemies' attack power for three turns at the cost of two AP. Quell is the Scholar's default job ability. The Scholar's ultimate ability, Tame, reduces the enemies' attack power to 1, but it only works for one turn.
Weapon Break is a special ability usable by Cloud, Squall, Seifer and Snow, and has three levels of strength. During BMS, Weapon Break reduces the attack power of the second monster to enter battle, higher levels cutting attack power by larger amounts.
References
Edit