Ad blocker interference detected!
Wikia is a free-to-use site that makes money from advertising. We have a modified experience for viewers using ad blockers

Wikia is not accessible if you've made further modifications. Remove the custom ad blocker rule(s) and the page will load as expected.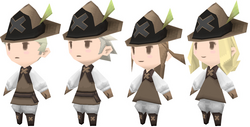 Recovery items work better!
—In-game description.
The Wayfarer (旅人, Tabibito?, lit. Traveler) is a crown in Final Fantasy: The 4 Heroes of Light obtained after defeating Greaps in the Witch's Mansion.
The Wayfarer concentrates on healing allies using items, and escaping from battles. The Wayfarer is a recommended crown when a single person is in the party, since they can escape from battles and are capable of using Regen in the earlier portions of the game. The crown has good proficiency with all kinds of weapons, but they remain poor magic users.
During the later stages of the game, there are better crowns available than this, meaning players probably won't use the crown after the beginning. The job's special armor, Traveler's Garb, provides a 5% boost to the user's Intellect, Spirit and Strength.
| HP | Strength | Intellect | Spirit |
| --- | --- | --- | --- |
| 1.0 | 1.2 | 1.2 | 1.2 |
| Short Sword | Sword | Bow | Staff | Spear | Axe | Book | Harp |
| --- | --- | --- | --- | --- | --- | --- | --- |
| B | B | B | B | B | B | B | B |
| Offensive Magic | Recovery Magic | Evade | Magic Evade |
| --- | --- | --- | --- |
| B | C | C | C |
Abilities
Edit
Name
Description
AP
Gems Needed
Image

Runaway

Run from the battle (except for Bosses).
1
None

Escape

Escape the battle (guaranteed, except for Bosses).
2
Ruby ×5
Emerald ×5

Recovery

Recover some HP each turn.
3
Ruby ×6
Topaz ×2
Aquamarine ×6
Amethyst ×1

Friend in Need

Summon the character's travel companion (the Faithful Fox) to attack the foe.
4
Ruby ×7
Sapphire ×7
Lapis ×3
Amethyst ×2
Diamond ×1