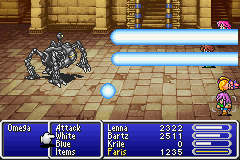 Wave Cannon (波動砲, Hadōhō?), also known as Surge Beam, Surge Cannon, Beam Cannon, Particle Beam, Cannon Wave Artillery, and FlareWave, is a recurring enemy ability in the series. It typically deals large amounts of damage to the entire party. It is most often associated with the Cloud of Darkness and Omega as their signature attacks.
Appearances
Edit
I Only appearing in the Dawn of Souls and 20th Anniversary versions, Wave Cannon is used by Omega, and inflicts massive non-elemental damage to the entire party.
III The Cloud of Darkness uses Particle Beam (FlareWave in the NES version). It deals massive non-elemental damage to the entire party.
FFIVTAY Surge Cannon is used by end-game mechanical bosses, such as Omega, and in the PSP release, Control System Ω. It inflicts damage equal to half the target's max HP and inflicts Sap.
V Wave Cannon, previously known as Beam Cannon, first appears in this game as an attack used by Soul Cannon, which deals damage to the entire party equal to half of each individual character's maximum HP as well as inflicting Sap. The superboss Omega has access to this attack as well, as does Omega Mk.II in the Game Boy Advance remake.
VI Wave Cannon, used by Air Force, Io, Gamma, Demon, Kaiser Dragon, and Omega Weapon, inflicts major Lightning-elemental damage to the party. It has a power of 110 with a hit rate of 150, and it cost 20 MP for the enemy to use. It is only used by Air Force after it has finished its countdown for it.
VII Wave Artillery is an enemy ability used by Hundred Gunner which inflicts non-elemental physical damage to the party and is only used during its third form.
XIII Wave Cannon is used by Manasvin Warmech.
XIII-2 Omega can use Wave Cannon.
FFCCMLaaK Wave Cannon is an ability used by Omega.
FFL3 Cannon is one of the main weapons/abilities on the Talon that can be chosen; it attacks all enemies at the beginning of battle.
Dissidia The Cloud of Darkness uses various Particle Beam attacks with different designations, such as "[0-Form] Particle Beam", as her HP attacks. Her EX Burst is "Ultra Particle Beam".
Wave Cannon is the summon ability of the Omega summonstone. It continuously halves the opponent's Bravery approximately every two seconds for thirteen seconds.
Dissidia012 The Cloud of Darkness retains all of her Particle Beam attacks from the first game, though their exact properties have been re-balanced.
The Omega summonstone returns with the same effect, still under the name "Wave Cannon".
ATB Wave Cannon is the enemy ability that is used by Cloud of Darkness and Omega during battle.
TCG One of the Cloud of Darkness's cards can use Ultra Particle Beam. For the discard of another Cloud of Darkness card and the payment of any amount of Water CP the player chooses, the ability decreases the power of all the opponent's Forwards by 1000 times the amount of CP paid, until the end of the turn. The same card also has a less powerful ability similar to Ultra Particle Beam, Dulling the Cloud of Darkness and paying any amount of CP to decrease the power of a single forward by 1000 times the CP paid.
In Final Fantasy VIII, Trauma uses an attack known as Mega Pulse Cannon, while the Dromas uses an attack known as Mini Pulse Cannon. Both in the Japanese versions are known as Surge Cannons, linking them to the Wave Cannon ability.
Ad blocker interference detected!
Wikia is a free-to-use site that makes money from advertising. We have a modified experience for viewers using ad blockers

Wikia is not accessible if you've made further modifications. Remove the custom ad blocker rule(s) and the page will load as expected.