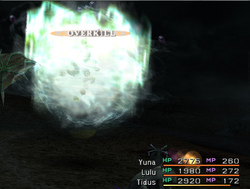 Waterga (ウォタガ, Wotaga?) or (ウォータガ, Wōtaga?), also known as Aquaga and Water III, is a Water-based Black Magic spell. It is usually one of the strongest Water-elemental spells available to the player or enemies.
Appearances
Edit
Waterga is an Elemental Magic Materia.
Waterga is the strongest Water-based spell. It cannot be learned by the player characters, and it is only used by the boss Kraken in Memoria. It cost 45 MP for the enemy to use, can be reflected and works with Return Magic.
Waterga is a Blk Magic spell found along Lulu's section of the Sphere Grid. It deals major Water elemental damage with a spell power of 42 costs 16 MP. Waterga can be cast by Abaddon, Greater Sphere, Jumbo Flan, Mindy, Nega Elemental, Seymour, Seymour Omnis, Sinspawn Genais, Sleep Sprout, Varuna, and Wraith. The Water Gem has the same effect as Waterga.
Waterga is the highest level Water-based elemental spell. It is a Black Magic spell learned by Black Mages and can also be used by passing through all gates on the Menace of the Deep Garment Grid, or by equipping the Cerulean Ring accessory. Waterga can also be used via Yuna's Festivalist ability Water Sandals, and hits either one or two enemies. Waterga can be used by many enemies.
Waterga deals Water-aligned elemental damage to all creatures within an area of effect. It is the first in three tiers of Waterga spells. It can be purchased from a vendor for 2,423 gil or less, depending upon Fame.
Waterga is an enemy ability that inflicts heavy Water-elemental damage to all characters in range. It is used by Crystalbug (red), Ash Wyrm, Diakon Entite, Brainpan, Mistmare, Undin Entite, Emeralditan, Leamonde Entite, Oversoul, Babil, Zombie Warlock, White Mousse, Goliath, Ixion, Hell Wyrm, Aspidochelon, Vishno, Etherian, Crypt Bunny, Molen, Tower, Luxollid, Vagrant Soul, Pallicant, Helm-Rook, and Vayne Novus.
In the English localization of The Zodiac Age, Waterga is renamed Aquaga. It retains Waterga's effect from the original release. Despite the Water spells being renamed to Aqua in the Zodiac versions, the Japanese version still retains the name Waterga for the spell.
Waterga is a Ravager ability that deals water-elemental magical attack against large area of foes. It has an ATB cost of 3 and an Attack Power of 2.2. It can be learned by Snow (stage 9), Hope (stage 8), and Fang (stage 10).
It is also an enemy ability used by Dahaka, Flowering Cactuar, Gelatitan, Hybrid Flora, Left Pauldron, and Verdelet.
Waterga is a dummied Ravager ability that inflicts water-attribute magic damage on targets within a wide radius. It had an ATB cost of 3 and a modifier of 2.2.
Water III (Waterga in the Japanese version) is an enemy ability. A standard version is used by the Void Monks inside the hard mode version of the Lost City of Amdapor, the Poroggo Pegists in the hard mode version of the Great Gubal Library, which deals water-elemental damage to all targets caught in the area of effect marker. A different version is used by the Dreaming Shudras inside the extreme version of the Emanation trial, which sets a marker on a random player to cast Water III on the target and all party members who happen to be next to the selected player.
Void Water III (ヴォイド・ウォタガ, Voido Wotaga?, lit. Void Waterga) appears as an ability used by the Lorelei boss in the Sirensong Sea. The attack functions similarly to the default Water III enemy ability.
Waterga is a high level Black Magic spell. It costs 4 AP to cast and it has a spell power of 15. Waterga can be used if the Waterga Tome item is in the character's inventory. The spell can be purchased in Urbeth and Liberte for 5,000 gil.
A variation called Strong Waterga can be used when two Psyched Up characters cast Waterga during the same turn.

Waterga is the second form of Shantotto's Spirit Magic: Water HP attack. It creates a medium-sized vortex of water around the opponent.
Waterga is cast by Shantotto's Spirit Magic: Water between 2000 and 4000 Bravery.
Waterga is a Black Magic ability with a Rarity of 3☆. It deals water magic damage to one target, it can initially be used two times and it can be honed to Rank 5. It can be created by using Black Orb x5, Fire Orb x3, Ice Orb x3, and 5000 gil as payment.
Non-Final Fantasy guest appearances Edit
Water II (also called Water 2) is a single tech of Frog that cost 8 MP to cast. It deals Water-elemental damage to all targets.

Etymology
Edit