Relm:

I couldn't miss the chance to practice my drawing!

This article is in need of a few pictures. Perhaps you can help by uploading a picture.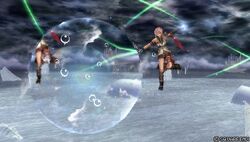 Watera (ウォタラ, Wōtara?), also known as Aquara or Water II, is a recurring spell in the Final Fantasy series, albeit not always usable by the player. It deals moderate Water damage.
It is called Aqua+ in Spanish.
Appearances
Edit
FFVIIBC Watera is an Elemental Magic Materia.
X Watera is a Black Magic spell found on Lulu's section of the Sphere Grid. It costs 8 MP to cast. Watera can be cast by Aqua Flan, Blue Element, Dark Element, Ghost, Maze Larva, Mindy, Seymour, Seymour Omnis, and Spirit. A version called Multi-Watera is used by Seymour and Seymour Natus, and will target two allies.
X-2 Watera is a Black Magic spell learned by the Black Mage dressphere. It costs 40 AP to learn and costs 12 MP to cast. It can also be made available via the NulTide Ring, or by passing through the green and red gates on the Menace of the Deep Garment Grid. Watera can also be used via Yuna's Festivalist dressphere ability Water Sandals. Water can be cast by a large array of enemies.
Watera
MP
81
Effect
Deals Water damage to enemies within area of effect.
Duration
Instant
Casting Time
1.5 Seconds
Recast Time
5 Seconds
Magic Type
Elemental Magic
Element
Water
Jobs
GEO 30
Watera is a spell available to level 30 Geomancers. The spell inflicts water-elemental damage in an area centered around the caster. The spell can only be purchased from Ledericus in Western Adoulin for 21,000 gil.

XII Watera appears in the original versions. It is not accessible to the player, but is used by certain enemies, such as the Rare Game Thalassinon, as well as the Mark Ixtab, among other enemies. It deals moderate water-elemental damage to all character in range.
In the Zodiac versions, Watera is renamed Aquara (アクアラ, Akuara?), however it still retains Watera's effect from the original release. Also the offensive item, Water Mote was replaced by the Aquara Mote, giving player access to second tier of Water-elemental attack, but the animation remains the same as tier one Aqua.
Watera is an ability for the Ravager role having an ATB Cost of 2 and is an area of effect spell. It is available to all characters except Sazh.
Watera has been removed from the game, but can be obtained via third party tools. Serah, Noel, and Paradigm Pack allies can be given Watera despite having the water element being removed from the game.
XIV Water II, known as Watera in the Japanese version, is an enemy ability used exclusively by the Water Sprite enemies fought during the "Trial by Water" level 15 Conjurer class quest. The ability deals water-elemental damage to all targets caught in the area marker surrounding the Water Sprite.
Watera is a moderate level Black Magic spell. The spell costs 3 AP to cast and it has a spell power of 10. It can only be used if the Watera Tome item is in the character's inventory. The spell can be purchased for 1,500 gil in Urbeth at night, Liberte after darkness floods the world, and in Spelvia.
A variation called Strong Watera can be used when two Psyched Up characters cast Watera during the same turn.

Dissidia012 Watera is a Bravery attack for Lightning. It fires a large orb of water that moves slowly and tracks the opponent, launching them into the air on contact. Watera can be used for 30 CP and needs 100 AP for mastery.
FFRK Watera is a two star rank Black Magic ability. It deals moderate water-elemental magic damage to one target, it can initially be used two times and it can be honed to Rank 5. Watera can be created by using five Lesser Black Orbs, three Lesser Fire Orbs, three Lesser Ice Orbs, and 3000 gil.
Etymology
Edit