Water (Ability)
Talk

15
13,964 pages on
this wiki
Relm

: I couldn't miss the chance to practice my drawing!
This article is in need of a few pictures. Perhaps you can help by

uploading

and adding a picture or two.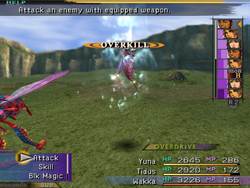 "Anyone thirsty?"
Water (ウォータ, Wōta?) is a Water-elemental spell, which first appeared in Final Fantasy VIII. In the games it appears in, it is often the sole ability capable of inflicting Water-elemental damage to the enemy save for the summon Leviathan.
It is called Aqua (Latin for "water") in Spanish, Idro (from the Greek word for "water"), Hidro in Italian, and Aqua or Wasser in German.
Appearances
Edit
Water is an elemental Magic Materia that deals Water-elemental damage.

Water inflicts Water-elemental damage on one opponent. It can be drawn or refined from items. Casting Water in battle increases compatibility with Leviathan by 1, but lowers compatibility with Quezacotl and Pandemona by 0.8.
Water
Draw from
Level 1-100: Chimera, Grand Mantis, Paratrooper
Level 20-100: Slapper
Level 30-100: Fastitocalon, Fastitocalon-F
Draw Points
Timber forests in Laguna flashback
Refine
I Mag-RF: 1 Fish Fin refines into 20 Waters, 1 Water Crystal refines into 30 Waters
HP-J
Str-J
Vit-J
Mag-J
Spr-J
Spd-J
Eva-J
Hit-J
Luk-J
+3
+0.20
+0.14
+0.18
+0.14
+0.12
+0.04
+0.18
+0.13
Elem-Atk-J
Elem-Def-J
ST-Atk-J
ST-Def-J
Water: +1.0%
Water: +1.5%
No effect
No effect
Vivi can cast Water by learning it from the N-Kai Armlet for 55 AP, costs 22 MP to cast, and has a spell power of 64. It can be reflected and works with Return Magic. As such, it can also be used in conjunction with Steiner's Sword Magic.
Water can be cast by Anemone, Axolotl, Clipper, Gigan Toad, Gizamaluke, Kraken, Lani, Quale, and Sahagin.
Final Fantasy X includes three levels of the Water spell (Water, Watera, and Waterga), putting it on the same level as the three key elemental magic spells, Fire, Thunder, and Blizzard. Like most Black Magic, it is located in Lulu's section of the Sphere Grid. Water can be cast by Lord Ochu, Mortibody, Sin's Core, Sinspawn Geneaux, Spherimorph, and Water Flan.
Water is an ability already known by the Black Mage dressphere. It can also be used if the Blue Ring accessory or Menace of the Deep garment grid are equipped.
The Dragon Scale and Water Gem items have the effect of a Water spell. Water can also be used via Yuna's Festival-Goer dressphere ability Water Geta. The spell can be cast by several enemies in the game.
Water is a tier 1 Black Magic spell purchasable in Port Windurst, Port San d'Oria, and Bastok Markets for 140-162 gil, depending on fame. When cast, the spell deals Water-elemental damage to a single enemy.
There is only one level of Water Magick obtainable by the player and the Black Magick 2 license is required to use it. The spell can also be used via the Water Mote. However, several enemies cast Watera and Waterga liberally and the Esper Famfrit can cast Waterja during the battle against him, which inflicts Silence status. Famfrit's attacks are also Water-based.
In the International version, Water was renamed "Aqua" (アクア, ?) and can be used by the Black Mage and the Red Mage. Also the item Water Mote was replaced by Aquara (Watera) Mote.
Water is a Ravager ability available to all characters except Sazh. It deals magical damage and costs 1 ATB segment to cast. Lightning learns it at Ravager level 1, Snow at 5, Vanille at 1, Hope at 3, and Fang at 7. It is also used by Orobon, Dahaka, and Left Pauldron. When used by Orobon it may inflict Slow or Daze.
Water is a Conjurer spell (Rank 1). The spell was removed from the conjurer with patch 1.20 as part of action revisions, and is currently only used by certain monsters.

Water can be cast by Bishops and Sages. It costs 12 MP and requires 200 AP to master. It is learned by Bishops through a Spring Staff and learned by sages through a Battle Mace. It has a range of 3 with a vertical reach of 2, a Magic Power of 34, and cannot be reflected. It can, however, be countered with Return Magic, and have MP absorbed from Absorb MP.
Water is a spell used by Sages and Bishops, like in the previous game. Sages learn it from the Battle Mace, while Bishops learn it from the Spring Staff and it requires 200 AP to master. Unlike the last game, it takes 14 MP to use. It has a range of three, unlike standard spells that have a range of four, but to compensate, it is more powerful.
Vikings can also learn a similar spell called Tsunami. However, it costs only 8 MP, requires the user to be submerged in water to cast and also depletes MP.

Water is a low level Black Magic spell. The spell costs 2 AP to cast and it has a spell power of 5. The spell can only be used if a Water Tome is in a character's inventory. The spell can be purchased for 500 gil in Liberte, Urbeth at night, and Spelvia. A Water Tome can also be found in a chest inside the the Guera Caverns.
A variation called Strong Water can be used when two Psyched Up characters cast Water during the same turn.

Water is an HP attack for Shantotto when using Spirit Magic: Water while her Bravery is less than 3,000. It creates a small burst of water surrounding opponents.
The upper limit for Shantotto casting Water with Spirit Magic: Water is now 2000 bravery.
Water is an ability in Final Fantasy Airborne Brigade, split into two versions, one that has a rarity of Normal and one that has a rarity of Normal plus. At its base, the Normal Water has an Attack of 50 and a Defense of 80. Its maximum level is 20, its cost is 1, and its leveling rate is fast. Normal plus Water's base Attack is 320 and its base defense is 300. Its maximum level is 40, its cost is 5, and its leveling rate is normal.