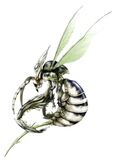 Wasp is a fiend type in Final Fantasy X and Final Fantasy X-2. Wasps are insectoid, taking on the appearance of bees or hornets, and usually attack with their stinger, which oftentimes inflicts a status ailment, Poison being the most common. They are among the least threatening species in Spira. In Final Fantasy X-2 they Oversoul after 18 kills.
Wasp Coin
Coin No.
7
Coin Value
2
Trait
Item
Location
Win from the Practice Core Sphere or the Easy Core Sphere players in the Luca Stadium.
Given x5 when entering the Sphere Break Tournament.
Ad blocker interference detected!
Wikia is a free-to-use site that makes money from advertising. We have a modified experience for viewers using ad blockers

Wikia is not accessible if you've made further modifications. Remove the custom ad blocker rule(s) and the page will load as expected.