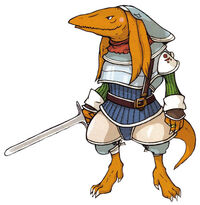 The Warrior is a master of melee combat, wielding one and two-handed swords with ease.
—Description
A job exclusive to bangaa, Warriors are similar to the hume Soldier class, though they possesses more offensive abilities and can wield two-handed broadswords. It is one of the default Jobs of the race, as well as Cid's default job.
Since many of their abilities are based on weapon range, they make a good sub-job for a Dragoon, as spears can spread the rends and lifetap to two targets, as well as MP enabling two mages at once with an elemental spear.
| Weapons | Head | Body | Equip Shields? |
| --- | --- | --- | --- |
| Swords, Broadswords | Hats, Helmets | Light Armor, Heavy Armor | Yes |
Move
Jump
Evasion
Unarmed
Attack Raise
Resilience
HP
MP
Atk
Def
Mgk
Res
Spd
4
2
0
18
40
A
G
C
D
F
F
50%
Abilities
Edit
Arts of War
Edit
SOLDIERS and WARRIORS use these skills to weaken foes' defenses.
Note: Lifetap can be used on two enemies at once with spear-type weapon.